Alan's Totally Biased Mini-Movie Reviews
---
2018 Movies
Jurassic World: Fallen Kingdom

+
Incredibles 2

+
Solo: A Star Wars Story

Deadpool 2

+
Avengers: Infinity War

+
Isle of Dogs

Ready Player One

Pacific Rim Uprising

Annihilation

Black Panther

+
2017 Movies
Coco

Three Billboards Outside Ebbing, Missouri

The Shape of Water

Star Wars: The Last Jedi

+
Justice League

Murder on the Orient Express

Thor: Ragnarok

+
Blade Runner 2049

Kingsman: The Golden Circle

Mother!

+
It

Atomic Blonde

Dunkirk

+
Valerian and the City of a Thousand Planets

War for the Planet of the Apes


Guardians of the Galaxy Vol. 2

+
2016 Movies
Rogue One: A Star Wars Story

+
Fantastic Beasts and Where to Find Them

Miss Peregrine's Home For Pecular Children

I love the new Star Trek movies. I've heard criticism that they are light on story and heavy on action but that is not a problem for me. I've always thought the Star Trek movies were more spectacle anyway. The shows is where you get your philosophical depth. It was very sad to see Chekov, as the actor died recently and he was so young and cool. The special effects were amazing, I loved the swarm ships. And finally, I liked that the end did not seem to be a capstone. I was worried that this might be the last of the reboot series. I hope there are many more voyages of the Enterprise to come!
We liked Ghostbusters. It was a fun family movie. As good as the first one? Of course not. But it was fun to see all the old actors make their cameos.
This was a fun movie, but I already forgot most of it. It was a cute and fun distraction.
If you know me, you know that back in 1996 my favorite movie of all time was released. I LOVED Independence Day so much. The sequel was fun too. Nowhere near as fun as the first and I missed Will Smith, but I didn't hate it. I wish it would have come out about 15 years sooner, when I was still a mega fan of the original.
Good, but more like the Disney direct to Video sequels of yesteryear. This film, like the new Independence Day movie waited a little too long to be a sequel.
The only reason this didn't get 6 stars is because it came right after Civil War which was likely the best Superhero movie of the year. But I did enjoy it of course. The Quiksilver montage was even better than the last one, and it was nice to see Sansa Stark as the young Jean Grey.
This one is up there with the original Avengers as one of the best Marvel movies ever. And the Spiderman scenes stole the show.
This was a neat idea. A crazy action movie from the first person perspective of the hero. It was like my video game dream come true. Playing an awesome First Person shooter game without having tom do anything!
Batman V Superman: Dawn of Justice

I'm about to watch this on Blu Ray tonight so maybe my opinion will change. I did like this movie though, despite the critics hitting it so hard. I really only had one problem with the movie, and that was the hulk monster fight at the end. I though Ben Affleck was great as Batman too!
Wow! Were we disappointed by this. Cloverfield is one of out all time favorite movies and this was not a worthy sequel. Sasha was almost furious when it was over.
I have no memory of this film. I know I saw it and liked it, but I honestly don't remember it at all.
Deadpool

+
Deadpool was the second best super hero film of the year (After Civil War). It was hard R rated fun, but not really R enough. If you're gonna be R and say you are going to go for it, then go for it. The Spartacus TV series, Game of Thrones, etc. Those are hard R. They went for it. So what's up Deadpool?
This movie was fun cuz it had more kung fu pandas in it (and cute little baby ones) and it used the strategy from Blazing Saddles to protect the town. Great job Po!
2015 Movies
The Hateful Eight probably should have been Quintin's last film (supposedly he has said that he's only gonna do ten and then call it quits.) I say that because it's a perfect bookend to Reservoir Dogs. It is a super cool and super violent Quintin jabber-fest. I loved every minute of it. I didn't even notice that it was long so don't let that scare you off. All the actors are perfect (most are of the Quintin repertoire so that is to be expected.) I can't wait to see it again and again, just like all the other Tarantino movies. It's an instant classic!
Star Wars 7: The Force Awakens

+
Like al of humanity itself, I could not wait to see this movie. It was AMAZING and lived up to all of my expectations. I went to go see it again a few days after my first viewing and I almost never do that anymore. I might even see it one more time before it leaves theaters. It's probably my second favorite Star Wars movie at the moment. Empire has dropped to 3rd place. The new characters were all amazing (although a few need more story, hopefully that is coming). Rey and Finn are awesome. Kylo is super fun (I love his tantrums and noisy light saber.) And of course it was great to see Han and Leia (Luke, get in the game!). Anyway, I don't really need to review this for anybody do I? It's freakin' Star Wars!
Pixar can do no wrong right? I thought this movie was really cute and fun, but coming a few months after Pixar's Inside Out made comparisons inevitable and this film is not as good as Inside Out. Kids won't care though. And kids who like dinosaurs will be geeked about the idea of humans and dinos co-existing.
The Hunger Games: Mockingjay Part 2

This movie was good. This series was good. But it took WAY to long to come out and by the time part 2 of Part 3 came, my interest had waned. See my review from last year for Part 3 for further explanation. One day I will binge watch all 4 movies and my opinion may change.
The Night Before was kinda fun and kinda funny. If you really liked Neighbors then you will like this movie. If you really liked This is The End (like I did), then you will be disappointed. It has funny moments, but it's not going to become, for me, the Christmas classic that they many have been hoping for.
I really liked Spectre and I remember that there were a lot of call backs to previous Bond films so that was neat. The only problem is that I waited about 2 months to write this review and I had to actually watch the trailer again to remember much of anything that happened. I love the bond films, but when I think back I can only remember fleeting moments from them, not the actual films themselves. I suppose then, for me at least they serve their purpose in providing entertainment in the moment, but maybe it might be cool if the next reboot of the series really does something memorable.
I love Guillermo del Toro and Guillermo del Toro movies like Pans Labyrinth and Pacific Rim, but the star of this film is the house. The scenery and cinematography are amazing but the rest of the film is just an OK scare fest. A little too digital and not really as creepy as it could have been. But I enjoyed it. I'll probably watch it again.
I can see the attraction of this movie and I did enjoy it, the same way I enjoyed Castaway with Tom Hanks. But when you think about the cost and effort that went into this rescue you might be appalled at how many lives could have been saved back on Earth. Just saying. Also how many times are we going to have to "Save" Matt Damon? You probably heard this joke but it is funny. So far we've "saved" him in Interstellar, Elysium, and Titan AE. Then in Saving Private Ryan, Courage under Fire, Green Zone and Syriana. LOL.
The reviews for this movie were crazy high. So we went to go see it at the theatre. Usually we would have waited for something like this to come to Redbox and then probably forgot about it, but I had time off and nothing to do and as I said, the reviews were great.
This movie is boring and just when you think something is going to happen, nothing happens. I'm not sure what everyone sees in this? Yawn.
Mission Impossible: Rogue Nation

I like the Mission Impossible movies. They are good fun to hold you over until the next James Bond movie comes out. And this one is no different. In fact it seemed to be the same plot as the last James Bond movie.
For me, the best things about these movies now is Simon Pegg. He carries the films for me now and during this one when he was not in it for a while I started losing interest. It's definitely a good movie though and I'm sure my dad and I will binge watch the whole series one of the times when he comes to visit. So I will see it again!
The reviews for this film were brutal. I was excited to see it, then after reading the reviews I was curious to see how they could have failed so spectacularly. I think coming off a pretty epic Marvel year so far, it was going to make it hard for this one at the end of summer. It is certainly not as bad as the reviews. I thought it was fine. Here's my criticism, it's probably the most origin-y origin film so far. I mean, the entire movie is dedicated to that. Usually they blend the origin in with a story that "features" the origin. Here, it's all origin. They build the machine, they get their powers, the end. Which is fine with me, as long as they make more films. The movie also has a darker tone and look than most Marvel movies, so that was off-putting as well. I love "Dark Knight Nolan" bleakness, but FF seemed dark for no specific reason. They didn't embrace it like Watchmen or Batman, and in my mind the FF are more playful and colorful (like Spiderman.) Hopefully the next film loosens up a little.
I love the Amy Schumer TV show, so the movie was super fun. It's long for a comedy, like all Judd Aptow films, but the funny keeps coming. The movie wasn't as edgy as the TV show but I suppose maybe that was a good thing. I would say about TV show hits about 75% of the time, so if was probably better to play it safer with the film. The cameo's were all hilarious and practically all of the comedians of this generation show up in the film at some point.
Ant Man

+
Paul Rudd and the comedy of Any Man served the film well. (Hopefully Deadpool will be the same.) I was familiar with the character from reading Ultimate Avengers, but I wasn't sure if he could sustain a whole movie alone. But they did a fine job. In fact, I can't wait to watch it again! I liked how they tied in the new Avengers facility and adding in the Falcon part was awesome. I really hope they start to do even more cross-over cameo stuff like that. It's pure nerd-tastic.
I was really happy with how engaging this movie was. Especially with characters that speak gibberish (although if you listen they are kind of speaking a mix of English, Spanish, French, Russian and Italian.) It's neat. The movie takes place during the Mod British 60's so it's got a awesome soundtrack and lots of cool pop culture references. It was also fun how they tied it all together at the end, but I won't ruin that surprise for you.
Rifftrax Presents: Sharknado 2

All Rifftrax are hilarious and when they make fun of a movie that is already mocking itself, it's probably a bit easier for them. Sasha loves going to these and the crowd is always full of MST3K fans so it's like a little family reunion.
I really liked this movie even more than I was expecting to like it. I read a review today that said it's actually the first Pixar movie that is more aimed at adults but with elements that kids will enjoy. Sort of a flip on the usual modern kid movie. I totally agree with that assessment. Although nobody agreed with me after we saw the film, I was pretty deeply affected by it and thought it was by far the saddest Pixar movie ever. Most of these films have one sad moment (the flashback in UP!, Jessie's story in Toy Story, The Doc story in Cars, etc...) but this film had like 6 really sad moments. Maybe even more, I was too sad to count.
I don't want to make it seem like I didn't like it though, I loved it! It is a very clever movie. In fact it was really fun to see how they figured out a way to visualize memory and feeling and all the other psychological elements of each person. The actors for all the emotional voices were all perfectly cast too!
I imagine I will see a lot of extra layers in this movie upon repeat viewings and I can't wait to see it again!
The whole family and a couple of Sasha's friends all went to Jurassic World over the weekend. Of course it was awesome. If you have time, re-watch the first Jurassic Park before you go, because there are a ton of Easter-egg type shout-outs to the first film. That was one of the things I really enjoyed about it.
As far as the the story goes, I love the fact that despite all the problems with the concept as seen in the last 3 movies, the business model of Jurassic Park always wins out and they went ahead and built it. And wow, did they ever. For the first 1/3 of the film I just kept thinking how awesome it would be to go to Jurassic World. I still kinda want to go there even after everything goes wrong! I mean they were open for like 10 years apparently without incident, sure they had one really bad day, but we wanna ride baby triceratops! And roll around in one of those cool spheres!
The actors all do a fine job getting eaten or barely escaping getting eaten. But the real stars are the dinos, of course, and they are as amazing as always. There's a scene at the end, you will know it, where I was giddy with joy watching it all unfold.
The reviews for the film are weak, but they are being too picky. I checked Meta Critic for all of the Jurassic films and none of them have actually been well reviewed, so if you liked the others, you will like this one too. I know I did!
I was excited about this movie. I love the director, Brad Bird because he made my favorite Pixar movie - "The Incredibles." Plus the preview looked good. It's only rated PG and the reviews are weak, but one of the user reviews I read mentioned that it is really just a "big budget family movie for kids". So if you get your head set to that going in, you should not be disappointed. I was in fact, very surprised as I watched it how much I loved it. Way more than I expected!
It's a good story. It looks great and the actors (especially the little girl from Tomorrowland) are all excellent. I also really liked seeing House (Hugh Laurie) as the bad guy. The film also does a great job of keeping up the pace and being engaging throughout. (I use Anya to measure this and she seemed to be watching and enjoying the show the whole time.)
On the way home I was gushing about how I thought the story was so great and unique. The family reminded me that it was based on a ride at Disney World, but I disagree. Obviously it's named after a place at Disney, but I was just at Disney and I saw nothing there that had anything to do with the story in this film. It's like saying the story in the movie Fargo was based on the name of the city it was named after? So I guess what I'm trying to say is, don't let the name of the film deter you. It's a great movie!
I went to the late night 3D sneak preview of Mad Max Fury Road last night! I didn't take Sasha or Anya so don't worry about that! The movie is an action spectacle! Literally nothing but dirt, fire and speed! Almost no dialogue and what little there is, is mumbled or barely audible. If you want story and characters, you are in the wrong movie. The script for this movie must have been like 1/2 a page long. That said, of course I loved every second of it! My favorite of the first trilogy was, by far, The Road Warrior and this is as close as you can get to a remake of that. Everybody looks super-cool, especially Charlize Theron, her character is awesome! The vehicles were also amazing and if you read a little about the making of the film, it's neat to hear that almost everything in the film is real, including the stunts!
I especially like when they use the "Mad Max" effect of speeding up the film. It makes everything look more chaotic and crazy, if that's even possible in a movie like this!
Anyway, I loved the film. Not more than Avengers 2 (even though the ratings for Mad Max are way higher.) I would probably rank it #3 on my list for the year so far. Right after Avengers 2 and Kingsman.
We went to the sneak preview IMAX 3D double feature of Avengers 1 & 2 last night! Of course, it was amazing! Sasha won a T-Shirt!
In IMAX 3D it's like a sensory assault really. I mean that in a good way. The movie starts immediately with a massive battle with some insanely amazing stunts and then never really lets up. The Avengers fight Hydra bad guys, then they fight a lot with each other, and then have to re-group to fight Ultron and all his mini-Ultrons. The interesting angle is that Tony and Bruce are kind of the "bad guys." They have their mind set on a solution and they are not going to let anybody or any other Avenger derail their plans.
There are neat and fun side stories, a few new heroes and cameo's by practically everyone who's ever been in a Marvel movie! That was fun. And they were not just walk-on cameo's, they are all "in" the movie!
I also enjoyed the new fighting style of the team. You can tell time has gone by and they have learned how to play off each others strengths to gain an advantage in battle. More than once Black Widow grabs Captain America's shield and uses it herself! Or Thor deflects a hammer blow off the shield to wham-zap an onslaught of baddies.
If you are a fan of snarky banter, the whole script is pretty much just that. Almost everything Ultron says is dripping with sarcasm and play.
Avengers is officially the start of the summer of 2015 movies. It has set the bar crazy high. Now we will see in a couple weeks if Mad Max can keep up with it!
I'm beginning to think Chappie director Neill Blomkamp may be the M. Night Shyamalan of Sci-fi. His first movie District 9 was awesome. I loved it. Then came Elysium and I kind of liked it but not at all as much. Now comes Chappie, and I'm kind of bored. It had it's moments and it is a sci-fi movie with some fun action scenes but I'm just not that into Blomkamp's vision anymore. The most interesting part of this movie was seeing a dystopian near-future that is set in South Africa and some of the music tracks from Die Antwoord were kind of fun.
This was a really good movie and one of the most faithful classic live action Disney movies I have ever seen. It is the cartoon come alive with no stupid anachronistic embellishments - which was beyond refreshing. I am so used to that happening now that I was basically dreading it for the whole film. Any second the little mice were going to slide into frame voiced by 1980's hip-hop group The Fat Boys and rap out a warning to Cinderella about life. Or the Fairy Godmother would be a goth dominatrix. (The came close to this with the casting of Helena Bonham Carter, but she kept her Tim Burton locked down.) And who was the prince? He looked familiar. Oh! It's Rob Stark from Game of Thrones! Neat! Anyway... I liked it.
VS
Kingsman: The Secret Service

+
I like gun fight-y action movies. So here I will compare the best two so far this year in head to head, gun to gun, battle. Kingsman is by far my favorite movie of the year so far. I was so happy while I was watching this film my face hurt when it was over from smiling. It is a non-stop over-the-top action extravaganza. John Wick was a good movie too, but at the opposite end of the gun-flick spectrum. I'm not saying either are realistic, so that's not my reason for liking one more than the other.
John Wick is like a classic 1980's gun show. Think Steven Seagal. In their day I loved those movies. Steven Seagal, ex-hitman dragged back into the game has to kill 200 guys to save the 19 year old daughter of the other hitman he had to kill when the girl was a baby. That's what John Wick is. A classic throwback nostalgia piece.
Kingsman is a modern, cartoon-y CGI loaded super-hero type action movie. Like if James Bond was a Marvel character. The action is impossible but for some reason I love it and never wanted it to end.
I can go on and on about Kingsman, but it would be best if you just watched it. You'll understand. John Wick is fun too, but if you are standing in front of Redbox or wondering which one to watch first in your Netflix queue, the answer is Kingsman.
Anya loves Spongebob but I'm kind of over him. In recent years I've been all about Adventure Time. So I was kind of bored. The most interesting part of the movie for me was when they went digital at the end and interacted a lot with the real world. I don't even remember what it was about.
2014 Movies
The Imitation Game was a really good movie, not great, but good. I have a man-crush on Benedict Cumberbatch so it's hard for me to not just call everything he does a masterpiece. I read a book many years ago called Cryptonomicon by Neal Stephenson that had Dr. Alan Turing as a character and explained all about the Turing device and the Enigma code, so it was a thrill to see it actually created in the movie. It was like a film addendum to the book. Turing's story is tragic and sad, and while the movie imbeds his homosexuality throughout, it does not really play that angle. It's more about how a genius created one of the first computers. It's definitely worth seeing.
I know this is a big deal holiday movie and I enjoyed it for the first 90 minutes but then it had a big happy ending that was followed by another 45 minute movie tacked onto the end that was confusing and kind of boring.
So I was enamored of the hype leading up to this release. Some said it was a promotional hoax by Sony to cover up a film that sucked and was going to fail. Other's believed that North Korea truly would kill anybody who saw it. I like to believe the latter, but after it was released on Pay Per View, I paid 5 bucks and was kind of disappointed. I risked my life for this? I LOVED the movie This is The End and I love the whole Fr-Ogen couple. They are funny. But The Interview was weak. IT had some funny parts, but not enough.
The Hobbit: The Battle of the 5 Armies

We've talked about my problems with the Hobbit Trilogy. Of course I love watching it, and in my mind it's just a 9 hour lead-in for Lord of the Rings. But I just don't like dwarves. I don't care about them and when they get greedy, I kind of hate them. The final film in The Hobbit trilogy is literally a 2.5 hour battle. But not a great battle. The battle at the end of Return of the King was way better. Even the battle in Two Towers was better. Don't get me wrong, I love a good battle and I can watch them for a long time. But 2.5 hours is beyond my threshold. Perhaps when I watch them all together one day it will mesh more with the other 2 films. All I remember of it now was that it was kind of exhausting.
The Babadook is an old fashioned scary movie. It's not gory and probably wouldn't even scare some people. If you are frightened by children in peril, adults losing their minds, and monsters in the closet, then this is the movie for you. I loved it, but I can see many people perhaps just being bored.
I loved Interstellar. It's an obvious homage to Kubrick, who I also love so that's points right there. I also love the way it represents time, the special effects were amazing and the grand scope of the story itself was remarkable. Looking back I'm amazed that they fit it all in the 2.5 hour timeframe. Unfortunately I am writing this review long after I saw it, but I can say I am genuinely excited to buy it and watch it again.
The Hunger Games: Mockingjay Part 1

Here's the thing. Was this movie good? Sure. I read this series years ago and Mockingjay was actually my favorite. It is a bloodbath of a finale that I can't wait to see. The problem I have is splitting it into 2 parts and then making us wait a f***ing year to see the second half! That is stupid and just makes me resent the whole series. I know the Lord of the Rings/ Hobbit movies did the same thing, but they usually didn't stop mid-sentence like this. I mean if you are going to split a movie in half, that's cool with me, because I like long movies! But at the very least, release them like 6 months apart so I don't lose interest. The Matrix 2 and 3 did it. So did Kill Bill and Harry Potter 7. And they were all released about 6 months apart! So what the hell Hunger Games? I have to wait a whole year to see the end of the movie? You know the whole thing is done and sitting on a shelf for the next year. They're not filming or "fixing" anything. It's done and we're just being made to wait for no reason. That sucks.
I really liked this movie but I didn't love it. It was good and interesting and the performance by Eddie Redmayne is already the stuff of legend. He's really crazy good. That alone is reason enough to see the film. But, I wanted more of the science. One of my favorite things in movies is where you have characters that are insanely smart or even just ridiculously perceptive. That's why I like shows like Sherlock, and Psych and Monk and that new show Scorpion and even The Big Bang Theory. I wanted more of those moments where Stephen Hawking does or says something off-the-charts smart. His personal life was interesting and sad and kind of scary, but I would have liked it more if it was seasoned with grand scientific discoveries and revelations, or even him just whooping somebody at chess. I've always thought of Hawking as some kind of superhero-type intellect. I would have liked to see him display more of his "powers."
Alexander and the Terrible, Horrible, No Good, Very Bad Day

This is a fun family movie. Kinda like the Diary of a Wimpy Kid movies. They are fun to watch. A good rainy day movie to watch with the kids.
I had no idea I that I was going to love this movie so much. We were super excited to see it, but about 3/4 of the way through, I started thinking it was my favorite movie of the year! Then I remembered a few others like Grand Budapest Hotel, so it's not my favorite, but it's way up there. I really loved it. It's super funny and has great comic book action. And a really emotional storyline. I was totally absorbed by it. Big Hero 6! Hurray!
The reviews and buzz for this movie was huge. I heard and read so much about it. The way it was filmed as a single tracking shot. Michael Keaton's "Oscar please" performance. The musical score. All of it is true. It is an amazing movie. All the actors are amazing. The story is interesting and that tracking shot is incredible. Especially when you think about it later and realize that the movie takes place over about 4-5 days yet the shot seems unbroken. Sure there are a few times when you can tell where the edit is, like they did when they changed the film in Hitchcock's Rope, but still... it is pretty cool. Also the all drum score is pretty neat too. Really adds and edge and a vibe to the whole thing. A momentum. Anyway, I'm sure this movie is gonna be nominated like crazy come awards season, so see it while you can.
Gone Girl is another masterpiece from David Fincher (Fight Club, Girl With the Dragon Tattoo). The movie has the look and score you've come to expect from a Fincher movie and this story is perfect for his style. I actually read and loved this book (except for the end, which I did not like at all) and the movie is as close to a perfect match to the source material as possible. So the lovers of the book will not be disappointed. It's more or less all in the film. No glaring omissions and no changes for the screen. The screenplay was written by the author of the book, so that's good. If you don't know the story, I won't ruin anything, but I do highly recommend the movie. It's a great twist and it's a dark dark film. Which I love. The castings was perfect too. Everyone in the film pretty much looked and acted exactly the way I pictured them when I read the book. In fact, seeing the movie was as close to re-reading the book as I've ever experienced.
Sin City: A Dame to Kill For

+
If it would bother you to see Eva Green naked for an entire movie, then Sin City 2 is not for you. She's definitely not going to win any awards for best costume design! That said, Sin City 2 is a fine, albeit long over-due, sequel to 2005's Sin City. It's a prequel and sequel. Some takes place before the last film, some after. Everyone is back in one form or another. A couple played by different actors, but all shine. This movie and comic series really is tailor made for the a very small demographic of 14 year old boys, but I love it. If you didn't like the first one, you won't like this one. If you did like the first one, then this is an excellent continuation of the series. The effects are pretty much identical, so you could watch both movies in a single sitting and have a bloody good night.

RiffTrax Presents: Godzilla 1998

+
I'm not sure why I forgot to review this but since it was a one time event I suppose it doesn't matter. It was really super funny though. I am probably one of the 3 or 4 people in the world that actually liked this Godzilla movie back in 98. I know Godzilla was tiny and the movie was kinda goofy, but I liked it. I've probably watched it about 20 times! The Riff for it was super funny and it's becoming a neat event that Sasha and I go to a few times a year.
Guardians was awesome. A great way to end the summer. I was actually surprised how much I loved it. Not that I have to be persuaded to love a Marvel superhero movie, but the talking raccoon and non-talking walking tree were going to be a hard sell. But they pulled it off! Not only that, I think Rocket (The Raccoon) might have actually been my favorite character in the movie! He was super funny and a super genius! Neato! The action was pretty much non-stop and there was just enough story to keep the "we need a story" folks happy. It even had some old school look-out and duck 3D moments! Can't wait to see it on Blu Ray.
Lucy looked great in the previews and it was a fun movie. I liked it. But I wanted to love it and I didn't love it.
I loved the first How to Train Your Dragon. The story was awesome and the 3D digital effects were amazing. The movie plays on TV all the time and I often stop and watch it. The second film was almost as good as the first. I liked to see the story continued and was surprised that they even had some serious moments. I'm writing this review way late, so catch in on DVD. It's a good one.

RiffTrax Presents: Sharknado

+
RiffTrax is the guys from Mystery Science Theater 3000 making fun of a movie while you watch it. If you need further explanation, call me. Sharknado is an unusual choice because it's more like a MST3K movie than a usual Riff. They typically Riff big blockbusters. But if any recent movie deserves the Riff treatment, it's Sharknado. The Mother of all Made for TV B Movies. My favorite running gag in the film was every time the characters would try to explain the reasons for the sharknado and it's after effects, the Rifftrax guys would scream out "Science!"
We can all stipulate that A Hard Days Night is a great classic film. It was groundbreaking and was probably one of the first "Music Videos." Being able to see it in theater for the 50th Anniversary was also a treat. As a movie, it's just OK. But as a cultural touchstone, I'm glad to have seen it.
Edge of Tomorrow got very good critic reviews for a sci-fi action movie. It was because on these reviews that I thought Holly would enjoy it as well. She most certainly did not. She HATED this movie. She thought it was boring and stupid, way too loud, with no story and it went on way way way too long. I, on the other hand loved it! It is basically a mash up of Groundhog Day, the Saving Private Ryan opening Normandy sequence, the final Matrix Revolutions Sentinel Battle and Battle Los Angeles. I loved the repeated cycle of learning and there were a lot of funny moments too. I thought the aliens were cool and fast and scary. Edge of Tomorrow is not a fresh new idea, to be sure, but if you're going to take a bunch of things I love from other movies that I love and jam them all together into a new movie, then how could that not be good? Right?
This was the first movie I went to see after I broke my ankle. Sasha and I had been excited about it for a couple months and I wanted to see it with her. I love Angelina and Sasha is into the dark side and villains right now so it seemed a perfect match. And I did enjoy it. It's a neat retelling of Sleeping Beauty from the perspective of the evil queen. The effects were good and it was just scary and dark enough to be fun. I didn't love it, but it was worth seeing.
I read X-Men Days of Future Past many years ago. I remember it vaguely. So watching the new X-Men movie, based on this story was, for me, like seeing it all for the first time. I loved it! It is a Marvel films masterpiece. It's no Avengers, I'm not sure if anything ever will be, but it's as close as Marvel has gotten so far to that insanely high watermark. I loved the mix of old cast and new and all the hidden jokes and extra bonus stuff for the fans. The story was amazingly complex and whips nicely back and forth between the past and the future. It was cool that they got all the actors from the series to come back and reprise their roles, even if it was only for like 2 seconds (like Rogue). The action in the film was amazing. The Sentinels were crazy cool. This is a movie that is pretty deep in X-Men back story, so I don't know if I would recommend it to a casual movie watcher. It won't be as enjoyable if you don't know these characters and what they've been through in the previous 4-6 movies. But if you do... You won't be disappointed.
Godzilla

+
I am a lifelong Godzilla fan. I own all of the Godzilla movies and I have been forcing my kids to watch them ever since I was born. So now they "like" Godzilla too. (Sasha more than Anya.) It should be mentioned that even though I am a Godzilla super-fan, I also liked the 1998 Godzilla remake that most people seem to agree was a terrible. I've never understood why that film gets so much venom heaped on it. Anyway, the new Godzilla film was awesome. It was all I hoped for and more. Some of the critics have complained that the non-Godzilla parts of the movie were terrible, but if you have ever seen any Godzilla movies before you should have known that is the status quo for Godzilla movies! There's a bunch of boring non-sense interspersed with Godzilla fighting other monsters and wrecking stuff. If you were expecting more than that, you will be disappointed. But if you wanted to see the biggest coolest Godzilla ever on film causing some Grade A 2014 destruction, then this movie is a Godzilla lover's dream. Sasha and I loved it! If you set your expectations no higher than you would for any other Godzilla film, then you are going to see one of the best Godzilla films ever made.
Spidey 2 kicked off our Amazing May at the movies. There is going to be an awesome movie month. Unfortunately, while I loved Spidey 2, it was not as amazing as I was hoping for. First the good. The Spidey banter in this series is great. I love Spiderman's personality. He's funny, cool and very nice. I like that. Next, the Spiderman action and swinging is incredible! This Spiderman would destroy the old Tobey-Spiderman in a fight. He's just got better moves. Now the bad. Maybe my opinion about this will change with subsequent viewings, but I felt like the lulls between action were way too long in this movie. It's important, of course, to tell the story and add some drama to the film, so it's not just a string of explosions and fights, but I found myself getting impatient. It's a superhero movie, so in the end, it can do no wrong in my book, but it could have been a little tighter. That's all.
As a kid I loved the Muppets. As an adult I like them, but less. My kids try to like them but I feel like they are politely patronizing me. "Daddy wants us to like these puppets so let's make an effort." If I had to guess, I would say that the humor of the Muppets is more aligned to the less sophisticated time of my youth. My kids are way smarter than I was at their age. Anyway, that said, Muppets Most Wanted, was OK. I didn't hate it. The story was funny and the guest stars were good. In fact, watching the end credits it was interesting to see that practically every human in the film was a celebrity cameo. Try and find Tom Hiddleston (Loki from The Avengers). I dare you. His cameo was funny, but I didn't recognize him.
The problem with Transcendence is that it wanted to be all things to all people. Was it going to be philosophical sci-fi? Summer action blockbuster? Love story so there would be at least a few women in the audience? By not choosing one and trying to accommodate all, they sort of failed on every one. It's not a terrible movie. It's got great actors and a good story and the effects are top notch, but it never commits to anything.
What follows is a spoiler, so stop reading if you don't want to know a major plot point. This was the biggest problem for me...
In some movies I can understand why we humans resist. Invasion of the Body Snatchers for example, nobody wants to be a pod person. You lose everything. But when you still get to retain who you are, and the cost of assimilation is only a small sacrifice of independence, while the gains (immortality, super human strength, the end of all the world's problems) are immeasurable, then what the hell? Why do we still resist? It makes no sense to me, and when it happens in a movie it's frustrating. In this film, Johnny Depp offers us a perfect world and we say "no"? That's just stupid.
Captain America: The Winter Soldier

+
Here's the problem with Captain America...his name. I think people can't get past that. First off, it's too "Rah-rah America!" Second it's become sort of a derogatory jibe - "OH! Ice cream is fattening? Well said, Captain Obvious!" So even though we've now seen Captain America in one really good super hero movie and in a second film that ranks as one of the best ever made, I think people are still hesitant to rally behind his shield. Not me. Cap is the man. I like his pure wholesome demeanor and his blood spattered beat downs. And if you're in the camp that thinks it's too "Gung-ho America", then prepare to get happy, because this Cap ain't too pleased with the state of the world under America's stewardship... More specifically SHIELD. This is an amazingly well done movie. Thick juicy story with twists and mystery and intrigue, callbacks and shout outs to Marvel minutiae that makes the nerds shiver in their seats, crazy over the top action on a grand scale and one more thing... one of the coolest cross-overs ever.
This is for a very limited few, but if you're one of us, you are geeked to the max about this. For the last 2 weeks, the TV show Marvel Agents of Shield has had a storyline that has been building all season, and has now actually merged and intertwined with the events in this movie! There are scenes in the TV show lifted directly from the movie! There are situations in the movie that are mentioned and happening in parallel with the events in the TV show! I can't even begin to explain how cool this is.
Anyway if you haven't seen it. See it. Unless you hate America, Captain hater!
20 minutes into this movie I leaned over to Holly and whispered "I never want to not be watching this movie." I am an unabashed Wes Anderson fanatic so it will come as little surprise that I LOVED this movie. From the first minute to the last second, it is an absolute masterpiece. Obviously there are other movies this year that I am excited to see: X-Men Days of Future Past, Godzilla, Guardians of the Galaxy, Spiderman 2, etc... But with the exception of Sin City: A Dame to Kill For which I am losing my mind with excitement over, The Grand Budapest Hotel was the other film of this year that I have been counting the days to see. Literally. Up until I saw I yesterday, it was a major life goal. Now I can move on, and start living for Sin City. If you're a fan of the Wes Anderson movies, this one has everything and everyone you love turned up to 11. Ralph Fiennes, a new member to the Anderson menagerie, is absolutely brilliant. He perfectly picks up the the Anderson cadence and runs with it. The sets are a marvel and will require many subsequent viewings to fully take in. It's all just awesome. Go see it now.
The only reason I went to go see Non-Stop was because I had an unexpected day off work and nothing to do. This is what Holly and I call a "Hotel Movie". A stupid/fun action movie that you would never see at the theatre, but might order as a pay-per-view at a hotel. It's not a bad movie. Kind of a fun mystery thriller. Only rated PG-13 so it's not overly violent, if that's a concern for you. Liam Neeson is great as usual. The only problem I had with the movie, and it was a big problem that kind of wrecked the whole movie for me, was the motivation of the bad guy. I won't go into details because it will spoil, but for me it was a major let down that was confusing and made no sense at all.
Despite the fact that I am often teased for being "in love with" the original movie 300, I will dig that hole deeper now by saying that 300: Rise of an Empire, was even better than the original. I went into this movie with somewhat low expectations because I loved the original so much, but the reason I loved that film was for the amazing new visual effects. Now those effects are commonplace, so it was going to be hard to re-capture that magic. But what this movie does is replace that focus on effects with an interesting parallel/back story and a super crazy hot female lead (Eva Green, soon to be seen in Sin City: A Dame to Kill For.) The parallel back story idea was most interesting to me. We get the history of the conflict that we saw in the original 300 and then we get to see another battle story that is actually taking place at the same time as the first movie. Neato! Anyway, if you liked 300, you may, like me, like this one even better. It's got lots of gory bloody battles, a naked sex-fight, and more more more of everything else! Hurray!
I liked the Lego Movie. Maybe I'll need to see it again to like it more. I think I was expecting more from it, for some reason. Seemed like all the best jokes were in the preview. Also the sappy switch to the real world in the end was kind of a let down. And even though the jokes were pretty rapid fire, they were not rapid enough. I wanted more.
I loved the original Robocop movie. So I am a die hard robocopist. But I also thought this movie was pretty great. Maybe that's because it was my first action movie of 2014? I dunno. They changed the story enough to make it interesting. The special effects were awesome. This new Robocop would beat the old one to a twisted metal pulp, no question about that. I guess if I had a criticism, it would be that the bad guys were not bad enough (in the first movie they were super bad and there were layers of them) and the good guy, the actor who played Robocop, was not as good as Peter Weller from the first movie. His Robocop had more heart. Ha ha.
The Wolf of Wallstreet is probably the best of the many Goodfellas remakes that I've seen in the last few months. At least this one is by Scorsese, who directed the first Goodfellas so it's got that going for it. Which is nice. If you want sweeping unedited sequences of crime and decadence while a guy with a New York accent narrates the story of his neato fun-filled life of cash, sex and drugs, then you will not be disappointed. Thought Goodfellas was a little too violent? Wished there was more sex and nudity? Lots more? Then Wolf is the one for you! I loved it. Maybe the next Goodfellas will give us the best of all the worlds? Drugged out porn gangsters who run a franchise of strip clubs? One ticket please.
2013 Movies
The Hobbit: The Desolation of Smaug

+
The 2nd Hobbit movie was better than the first. It was way darker and there were no stupid songs or extended comedy routines. Thank Sauron! I know everyone wants to make a big deal out of Peter Jackson extending this 300 page book into a 9+ hour trilogy. But I'm fine with that. I think it's cool. If every great book was filmed with this detail just imagine how much better the movies would be. I also like how he's taking time to tie this story to the Lord of the Rings. This will make the eventual viewing of all 6 movies together more enjoyable. Anyway, I love the whole Middle Earth series. I still don't really like the dwarves and their story is not especially interesting, but these films are a visual feast. Stop thinking and just watch it.
This was exactly what I expected and actually a little bit more. I like the Anchorman movies, I just don't love them. I like the cast, I just don't love them. The saving grace of this movie was the parody of the creation of Fox News. If I had a complaint, it would be that they didn't take that Fox element of the story even further. To me, that was the best part of the film. When Ron tells the producers to redirect the whole broadcast for the night to a random car chase, I had to believe that was how it really happened in those early days at Fox.
I know this will probably win the Academy award, and it is a fine movie, but meh. To me it was a Goodfellas Lite homage to The Sting. The performances were great. The hair was great. The costumes and music were great. The movie though, was to me, nothing special. I'm glad I saw it, but not dying to ever see it again. I already forgot most of it.
The previews for this movie were misleading. It looked like it was just about a goofy snowman trying to get his carrot nose back from a moose. Luckily, there's more to it than that. It's actually a cool mix of new animation and old school Disney songs. Think Tangled.
I was surprised how much I liked this movie. First it's not a story that I know, so that's a bonus since Disney usually just uses classic source material. Second the visuals, especially the snow and ice, are pretty amazing. Really cool looking. The songs are fun and the characters are as well. So hurray for Frozen. I'm sure I'll see it again and again for many years to come.
The Hunger Games: Catching Fire

+
I love the Hunger Games series. I read all the books and loved the first movie. I was super stoked to see his next movie even though I knew the end would not be good (because the second and third books are really just a single story chopped in half.) So there really is no ending for this film. Think Matrix Reloaded or Empire Strikes Back. Now, as is the fashion, they have split the third book into 2 more movies. So I'm gonna have to wait until late 2015 to see the end of this thing. That's disappointing, but hopefully they make use of the extra time and budget.
Anyway, this episode was really great. It was VERY true to the book. It was neat to see all the new characters played pretty much exactly as they appeared in the book. It's more exciting than the first movie and does a great job getting us ready for parts 3 &4. Here's hoping that they stay true to the bloodbath that is the third book.
My expectations for Ender's Game were as low as could be. That's one of the reasons it took me so long to see it. I read this book and loved it like 20 years ago. I could never really imagine it as a movie because in the book Ender is 6 years old. They could never get what they needed out of a real six year old, so when they eventually made this movie they cast a teenager. That was a problem for most fans of the book. Me included. But I figured I could get past it. Then the previews came out and it appeared that they changed a significant twist in the story. The main point of the story really. At that point I pretty much lost interest. But eventually I decided I needed to see it and lo and behold... I loved it! Yes, Ender was too old and the time spent at Battle School was too short, but everything I remembered and loved from the book is more or less there! I was very happy with the film. I really liked it!
Thor is probably one of my least favorite Avengers. Kinda like the Dwarves in Lord of the Rings. But I do enjoy his naughty brother Loki and this was a fine installment in the series. The action was cool. The story was fun. There was nothing about it that I didn't like.
Cloudy With a Chance of Meatballs 2

I loved the first Cloudy with a Chance movie. And.....I liked this one too. It's not quite as funny as the first one, but it's a fun sequel.
WOW! I loved Gravity. I suppose just like everyone else who saw it. It has like a 96% favorability rating on metacritic. That's almost unheard of. I was on the edge of my seat during all of the action sequences and then choking up during the emotional parts. It's very formulaic and I was reacting like a good movie-watching test-monkey, but I can still say I liked it. Right? Cuz I did. Plus the visual effects are mind-blowing. Not seeing this movie in the theater in 3D would be a travesty. It will never be as good at home in 2-D no matter how big your TV is. I've never seen a movie more "made for 3-D" than Gravity. Go see it now! NOW!
I know this one is late but I just saw the movie this weekend. Was it good? Yes. Was it great? No. As the poster says, Elysium is from the director of District 9. So that set a pretty high bar, since I loved that movie. This movie has some of the same elements but I thought the film ending was not as satisfying. I don't want to ruin it by discussing my reasons, suffice to say too much seemed unresolved. Anyway, the effects are good, and it's Sci Fi so it's worth a look, but maybe wait for Redbox?
For those of you who don't know what RiffTrax is, it's the guys from Mystery Science Theater 3000 who now sell super funny commentary tracks that you play along with current movies. Every now and then they do a theatrical presentation. This was a live commentary that they did to Starship Troopers. It was insanely funny. Plus watching it with a full house of MST3K fans made it even better. I love Starship Troopers already, so it was even more fun to see and hear the guys make fun of it. If you've never watched a movie with a Rifftrax, I recommend you try it. One of our favorites here at my house is the Riffs of the movie 300 and the Star Trek reboot from a few years ago.
I was blown away by the first Kick Ass movie. It was unexpectedly violent and a cool new twist in the super hero genre. Kick Ass 2 has the violence, but that's about all. The story is not quite as fun, the comedy is not quite as sharp, and Hit Girl while still super cool, is not as unique a character because she's not a little girl anymore. When she was like 8 years old, swearing like a gangster and blowing the heads off bad guys at point blank range, it was exciting and dangerous. That was my problem with this movie. I still loved it, but not like I did the first time.
I took Anya to see this. Sasha wasn't interested. I liked it. It was cute. Funny. It's not like How to Train Your Dragon or Pixar quality, but it's worth seeing if you have a 5 year old who wants to watch a movie.
Here's the thing. If you know me, you know I kinda like comic book movies. So did I like The Wolverine? You bet! Loved it. It was super cool. The story was fun and the action was awesome. What it reminded me of was a really good comic book arch. This being the 6th or 7th time Hugh Jackman has played Wolverine, I now can see no one else in the role. He owns it so thoroughly that when they eventually recast, it's gonna make the Batman / Ben Affleck Firestorm look like a dying ember. Anyway, it's a great movie. Check it out when you can.
I saw Pacific Rim last night. As a lifelong fan of Godzilla movies and a childhood fan of giant robots like Ultraman and Johnny Sokko & His Flying Robot, I was predisposed to love this movie, and I did. It was not quite as good as I hoped. I think the problem I had with it, is that it tells the story of the end of the Jaeger (Giant Robot) war against the Kaiju (Giant Monsters). The preface of the movie zooms through the entire war in about 5 minutes. I would have loved to have seen the beginning, and perhaps that will be what the sequels focus on? That being said, this was really my only problem. The movie was a super awesome giant monsters fighting giant robots city destroying 10,000 tons of fun. You cared enough about the characters and the story of where the monsters came from and the side story with the scientist figuring that out was an interesting diversion between the monster fights. All in all I was very pleased with the movie, but honestly I couldnít really see how they could go wrong.
Despicable Me 2 is funny. I love them minions. However I always feel like both movies could have had stronger stories. All the elements of a good story are there, but they never quite go as far as they should. Like in this movie they recruit bad guy Gru to work for a league of Good Guys. That should have provided countless ďbad fish out of waterĒ tangents and jokes, but it didnít. Also I would have liked if they showed more of Gru trying to adjust to his new role as loving dad. There was a scene of this at a birthday party, but this too is another area that they could have expanded on a lot for more jokes. Anyway, itís a fine kids movie and engaging enough for adults, it just never goes deep enough.
World War Z. It took me a while to write this review. I donít know why, Iím just lazy I guess (itís summer.) Did I love WWZ? Yes, of course! Itís a big budget zombie movie based on my favorite book of all time. Yes, you read that right, World War Z by Max Brooks is my favorite bookÖever. Iíve literally read and listened to the amazing audio version of the book dozens of times.
Like everyone else who follows movies at all, I was nervous going into this movie. The production was wrought with problems and stretched on for years and then had a major rewrite/reshoot in the 11th hour. The zombies were fast. It didnít follow the book. It was only rated PG-13. How could this not be a giant disappointing disaster?
Well Iíll tell you, what all that bad news and negative press did was set my expectations so low that by the time I was actually watching the movie I was more blown away as every second passed than I can remember. I didnít just love WWZ. I LOVED WWZ!!!!!!! It is the best zombie movie I have ever seen in my life!
I know zombie purists have cried foul (zombies donít run!), book purists canít get on board (the only part of the book you see on the screen is the title of the movie!), and Brad Pitt haters just canít stand Brad Pitt. But as a major zombie fan and fan of the book, I can say that those people are all stupid and crazy. If you like zombie movies then World War Z better be at the top of your list. Never has a movie spent more money and spent more time showing us a Global Zombie Outbreak. And for that reason alone, this movie is amazing.
Iíve said this before, but my favorite part of any zombie book or movie or TV show is that point at the beginning when all of society collapses. There has never been a movie that has shown that beyond the perspective of a single person or small group typically in a single location. I love The Walking Dead but whatís going on in the rest of the world? Even the comics which have been going for 10 years have never addressed this. The thing thatís great about the book WWZ is that it shows you the outbreak all around the world. You get multiple perspectives form all kinds of people in all kinds of situations. WWZ the movie still shows most everything from one perspective, but at least they fly Brad Pitt all over the world so we can witness the collapse from place to place.
I donít want to go on and on. I could talk about this for hours and nobody really reads my reviews. I loved the new swarming zombie effect. I like fast zombies (they are way scarier) and World War Z is now my favorite movie of the year. That's right... Number 1.
Monsters University is super fun, but not super funny. Kids will probably love it. Grown Ups, who saw Revenge of the Nerds, will either see it as a cute homage or a tired retread. I was somewhere in between. I liked it, but it stuck so close to the Revenge of the Nerds storyline, it was difficult see it as a separate movie. I would have liked to see more of the classes and activities at Monster University and perhaps, this being a sequel, more of the secondary characters backstories. I did like that we got to see Bad Guy Randal before he went bad. That was, for me, the part of the film I liked best.
I did not see this movie coming in as a "Top 10" for me this year, but after the "super" disappointment below it has suddenly rocketed up into the number 3 slot on my favorites list for the year so far. Right behind Star Trek 2 and Iron Man 3. I haven't seen everything released this year and we're only 1/2 way through, but I'm going to boldly declare that This is the End is far and away the funniest movie of 2013.
It reminded me of last year's The Cabin in the Woods. Funny but with elements of horror. The movie is basically all the actors you see in the poster above, more or less playing themselves, during a party at James Franco's house when the biblical apocalypse starts and the rapture begins. The best thing about the movie is that the apocalypse is not a joke and the reactions and behavior of the actors all seems reasonably, although exaggerated for comic effect, real. It's like what would actually happen if this happened.
The comedy, action and cameos by other stars is relentless. Emma Watson and Michael Cera are especially awesome. It's a solid 107 minutes of fun. I was laughing out loud frequently, as was the rest of the packed theater I watched it with on a random Tuesday night show. This is an amazingly well done movie. It's not for everybody though. The jokes are hard R rated and as graphic as some of the horror and gore. And even though it has a spiritual underpinning, it will probably be very offensive to sensitive religious types.
I waited 24 hours to write this review. I wanted to get my thoughts in order. I'm having a really hard time giving a big budget superhero movie less than 5 stars, especially a movie that I was CRAZY excited about, but it had to be done. So here's the review. I liked Man of Steel. It was a new and interesting take on the Superman origin story. Just not what I was expecting or wanted to see.
First the good parts, I loved the beginning of the film that featured the destruction of Krypton. I was hoping this part would be extended and it was. I always thought the old films glanced over this part too quickly. Probably because Marlon Brando, as Jor El, had some crazy contract provisions that limited his screen time. He was pretty eccentric by that point. In the new movie Russell Crowe does an outstanding 5+ star version of Jor El. I LOVED every scene with him. I also enjoyed the expanded role of General Zod. As a fan of Boardwalk Empire, I had trouble envisioning Michael Shannon in the role of Zod but he was amazing. The menace he brings to his Boardwalk character was blown up to lusciously cartoony levels for Zod. So that was great too. The Krypton tech was cool (the ships, the suits, all the tech.)
OK, now here's the thing the rest of this review is gonna sound bad. I want to be clear, I did like this movie and will probably like it more after I see it a few times, but right now I have many "issues" with it that made me kinda sad.
When I read the reviews for the movie, which were terrible, I figured the reviewers were crazy. They just didn't get it right? Christopher Nolan and Zach Snyder (a producer/director teaming that seems insanely awesome) must have made a darker (Dark Knight-ish) Superman that the world just wasn't ready for. Right? Kind of, but not really. The headlines on CNN for the last 2 days have talked about the films allusions to Jesus and that is, unfortunately, pretty accurate and disappointing. If you want to see Superman getting the crap beat out of him for 2.5 hours (turning the other cheek, Passion of the Christ-Style) then this is the movie for you. You get to see him taking a beating, almost non-stop for his whole life, but never fighting back. That's fine for a while, but I wanted to see him go off on somebody. That's the Nolan darkness I was expecting. And I wanted it to be terrible when it happened. That's the Snyder violence I was hoping for.
The whole Lois Lane part of the story didn't really make sense. It seems like there should have been more that brought them together. I get the feeling that there were a lot of scenes that ended up on the floor of the editing room. Also, and I hate to say things like this because it's a super hero movie and realism isn't important, but there are several, and I mean SEVERAL, times in the film when the action takes Superman and whoever he's fighting all over the world and even out into space, but he always seem to end up right where Lois is. Watch how many times this happens in the film. It's kinda crazy.
I also didn't appreciate the Tarantino flash back chronology of the film. It seemed to jarringly break up the story rather than help propel it forward. And Zach Snyder, who is an awesome director all by himself (See Watchmen) seemed to have gone to a JJ Abrams/Joss Whedon film making class or something. The number of lens flares, shaky camera and whip zooms all seemed out of place in a Zach Snyder film.
Finally, and this will be my last complaint, I wanted to see Superman do more hero-ing. You know that part of the origin film where he grows up and does a bunch of hero stuff because he can't help it? There was a little of that, the school bus, the oil rig, but I wished there was more. LOTS more. That's the part of the movie that gets you excited about who he will become. This is important, this was the part of the film where I had hoped the Nolan/Snyder influence would have shown some of the times he accidentally did something terrible and learned his lesson. I don't mind if Superman eventually becomes a kick-ass good guy Jesus type, but I wanted to see the mistakes and horror that made him become that.
Meh. I liked this fine. I went to see this with Sasha who is 8 years old. Maybe it was because I was with her, but this movie seemed like a super expensive episode of the kids horror anthology Goosebumps. It scared the heck out of Sasha and she liked it but it wasn't quite the epic adventure I was hoping for.
I don't know what took me so long to write this review. Sorry about that. I've seen this movie twice at the theaters already. It's my favorite movie of the year so far (slightly inching ahead of Iron Man 3.) It was an amazing followup to the first film which was also amazing. If this is any indication of what JJ Abrams has lined up for Star Wars, then I couldn't be more excited. All the actors were back although this one gave more time to Spock and Kirk and a little less to the rest of the crew. But Khan made up for their diminished roles with a powerhouse performance. That Cumberbatch guy was great. Especially his super low menacing voice. I want a recording of him reading something like "Good Night Moon." That would be hilarious. The movie is about 2 hours and 20 minutes long but it flies by in what seems like an hour. The second time I saw it, it seemed to go by even faster. If you really want to have fun, watch the DVD of Wrath of Khan before you go see it. I did that with Holly before the second viewing to get her primed. It's neat how they tied and looped and switched around elements from the old film. Anyway, I'm not sure how much more I can say about how great this movie is. It's great! Really really great. I love it. OK? There I said it. I love it. Now go tell all your friends.
I waited to see this at the cheap theater because the critics hated it so much. Not sure why. I thought it was pretty good. Maybe they were waiting to see if the other Earth after the apocalypse movie would be better - After Earth? Anyway, the story was pretty cool and the twist is not the one you know that copies the plot of the movie "Moon." There's another better twist. Anyway I liked it. decent sci fi is still better than pretty much everything else.
In the spirit of the terrorist mastermind The Mandarin, I offer a lesson to any super heroes now or in the future:
If and when a scraggly crazy eyed scientist corners you at some point in your life and asks you to help them further "the project" they are working on, please do one of two things: Either help them or immediately alert the authorities to take the scientist into custody. Nothing good ever comes of disregarding them, teasing them or just brushing them off. Haven't you ever seen a superhero movie or read a comic book? Indifference or contempt from you will always, with 100% certainty, create a future super villain or evil mastermind bent on your, and often all of our, destruction. Quit pushing their buttons! Stop gambling with the lives of all humanity. Just finance their stupid project so at the very least you can keep tabs on them for Gods sake!
Iron Man 3 is a great film. I loved it!!!! But, I hope it's not the last of the series. There was some closure, but not enough to cap the series. The action sequences were amazing. Especially the big finale which was so awesome that I'm certain my brain was only able to process about 60% of the excitement. I will have to watch this film repeatedly before I can say I really saw it. The villain was awesome. Pepper Potts and The War Machine "Rhodey" Rhodes were promoted to tier 1 hero status. I really want you to pay close attention to "Rhodey" in the finale battle. Then decide who the real hero of the film is. Anyway I loved Iron Man 3. Great way to start the 2013 Summer Movie Season!
PS: Not that you need reminding, this is a Marvel movie, but stay for the end of the credits and the narrative you just spent the last 2+ hours watching will make more sense.
I am a fan of the Evil Dead films. I went to the world premier of Evil Dead 2 with my friends after director Sam Raimi came to our high school drama class and invited us to come see it with him and the stars and producers and his friends and family. I still have the hat and the poster and the t-shirt. I'm looking at the hat right now up on the shelf in my office while I write this. To the left of that shelf is a collection of all the various releases of the 3 Evil Dead films on DVD and Blu Ray (I got rid of the VHS versions a few years ago.) If you know anything about the DVD releases, you know that the distribution company, Anchor Bay, has a habit of re-releasing the Evil Dead films every few months with a few more "special features." So needless to say I have about 17 versions of these 3 movies. I use an old Army of Darkness DVD as a coaster on the window ledge next to my desk. So when I heard they were remaking the film I did what all good fanboys do... (no I didn't whine and cry that a non-Raimi/Campbell production would suck and boycott it).... I cleared off room for the next 5 versions of the movie that I expect will be released on DVD and Blu Ray some time later this year!
You don't need to know anything about the previous Evil Dead films to enjoy this new movie. It's not a prequel or a remake or really even a sequel. There are Easter Eggs-a- plenty that point back to the previous films, so if you are in-the-know, you will be amused. I saw it opening weekend on a Friday night in a jam packed super capacity theater. That was an awesome experience. The film is unbelievably gory. How they got a R rating is a mystery. Read here http://news.moviefone.com/2013/04/04/new-evil-dead-horror-movie_n_3014968.html. It's not as funny as the previous films which went more toward humor as they progressed, but if you are amused by over-the-top carnage, then you will be laughing yourself silly. The movie is scary, which is rare, but I think The Walking Dead has desensitized me somewhat to the zombie/possession genre. Not that I don't enjoy it, but it doesn't scare me as much as it did when I was a kid. All in all I loved the movie. I can't wait to see is again with all the extra scenes, deleted parts, branched cuts, commentaries, bonus features, director cuts, producer cuts, secret editions, special editions, collector's editions and gift sets that Anchor Bay is no doubt putting together at this very moment.
The last time I saw Jurassic Park at the theater was in 1993. That was 20 years ago! 20 years!!!! Holly and I waited outside the cinema at the Meridian Mall in Lansing, MI for about 4 hours to see it. Maybe it was 6? Back then you literally had to wait through multiple screenings to get tickets and a good seat for the show. I remember waiting in line as being fun, but I have a bad memory. What I do remember is that the dinosaurs in Jurassic Park were the coolest special effect I had ever seen in my life. I have since seen the movie a dozen or more times, but I will say this - seeing it in 3D on the big IMAX screen was the closest you will ever come to that feeling you had the first time you saw it. The 3D is amazing and this film, maybe more than most, seems to have been made to be seen in 3D. I know it's expensive and you and your kids have probably already watched it on DVD, but this is an event. Sasha loved it! She was scared out of her little 8 year old mind, but she loved it.
The Incredible Burt Wonderstone

I was excited to see this movie when the poster came out. Then I was disappointed when the reviews came out. I had a date night with Holly, and there was nothing else to see, so we saw it. I guess the big problem is that it doesn't go far enough in any direction. If it wanted to be a sharp satire it was not. If it wanted to be a family friendly light hearted romp, it was not. It's a little bit of everything but not enough of anything. I laughed a few times and I really liked Steve Buscemi. So if you like Steve Buscemi and want to laugh a few times then this is the movie for you!
I'm not sure why the critics hated this movie so much. I liked it. The kids liked it. The special effects were cool. The monkey in the hat was funny. What more do you need?
Die Hard 5: A Good Day to Die Hard

If anyone actually read these reviews, I would probably get grief for giving a stupid movie like Die Hard 5 this many stars. I will admit freely that this movie had a weak story and the dialogue was quite possibly some of the worst I've ever heard in my life. The 5th or 6th time McClane said "I'm on a vacation here!" I started tuning out the dialogue completely. And unfortunately, tuning out the dialogue wasn't hard because the sound mixing of the dialogue in this movie was terrible. Sometimes when McClane cracked wise, his voice was drowned out by explosions or a few times even chopped in a quick cut edit. So besides all that terribleness, I did actually really like this movie. The action was over the top crazy fun. There is a car chase scene that may have set a record for smashed cars. It just went on and on - first it was fun, then it was stupid, then when it didn't stop, it was awesome! Anyway, I won't go on about how much I enjoyed all the gunfights and explosions, but I did. I really liked it.
I feel bad giving a theatrically released zombie film 3 stars. And I didn't hate this movie. It was a cute film but it so radically diverged from all known and accepted zombie mythology that I just couldn't accept it. I've read books where zombies can think and talk. I didn't like those books. This movie took that even further. I don't want to see zombies being "cured" by love. That's offensive to me. Also, even though I knew the mythology was going to be blown to pieces, I expected the movie to be funnier. It had a few funny moments but nothing even approaching Shaun of the Dead type comedy. If you liked this movie you might also like these zombie movies: Colin, Fido, Otis (Which I also didn't like for the same reasons.)
2012 Movies
I am very much enjoying Quentin's historical revisionism. Baseball batting nazis (Inglourious Basterds) had a bit more "crack" to it, but Django is no Roots. It's a great story and really really fun to watch. Its also super funny. Christoph Waltz, Jamie Fox and Leo DiCaprio are all outstandingly over the top. I guess the only reason I liked Basterds better is because the violence dished out to the nazis was more severe. I wanted to see the slavers and slave owners in Django get more of what they deserved. While everyone dies, they don't die hard enough. I'm excited to see what historical atrocity Quentin will avenge next.
The Hobbit: An Unexpected Journey

+
The Hobbit was as awesome and maybe more so than I expected. Obviously my expectations were crazy high. I tend to think of the Lord of the Rings as the greatest film trilogy ever made, so since it's all the same people making this series how could it be any less? The dwarves are, however, my least favorite group of people in Middle Earth, so that was a slight handicap that I had to overcome.
But I'll tell you what helped me get over the dwarf-centric story, 48 FPS 3D. Because of all the buzz, mostly critical, I was very excited to see the movie in the new 48 frames per second 3D format. This Hyper-Real 3D was AMAZING! Here's how it went for me. At first I couldn't adjust to it, then for a while I hated it, then I started to like it and finally I LOVED it!
Here's a quick break down of those stages. At first it's a shock to the senses. It essentially removes the thin layer of graininess that allows viewers to distinguish between images projected on a theater screen (something artificial) and their surroundings in the real world. This is, at first, disturbing.
Then I hated it. In one article I read it said, "When you reduce artificiality and instill a heightened sense of realism, it dwindles the sensation of peering into a dreamworld; worse, it leaves some people with the same (bad) impression as a low-budget recording of a stage performance." This is exactly how Holly described it. "It actually looks more fake" she said, "like actors playing a part, instead of characters you could believe in."
After a while though my eyes became more acclimated to it, and I started to really enjoy it. Scenes where human and CGI players interact seem more believable because both now look equally ďreal.Ē Same with sets and background. When everybody interacts with the Goblin King you don't see the effects anymore. And Gollum has never been more of a real character.
By the end of the film I had fully embraced 48 FPS. I was thrilled by it! I can't wait to see the rest of the trilogy and actually haven't stopped thinking about it for days. I'm considering seeing it again, because with so much more to look at, I feel there is much I may have missed.
I wanted to Love Lincoln. I did like it. It's a great movie obviously, with terrific acting as you've heard, but it didn't hit me the way I expected it to. It was an interesting history lesson but that's about it.
I wasn't expecting to like this movie as much as I did. I thought it would require a greater knowledge of legacy video games. I'm sure many of the characters were lost on me since I stopped playing video games in the early 1980's, but I knew more of them than I thought I would. The story doesn't really hinge on this though. It's a sweet story that I found myself emotionally invested in for some reason. The little girl voiced by Sarah Silverman is so cute I can't stand it. I hope they make toys for the movie. I want to buy Vanellope von Schweetz for Anya.
This movie was stunning! STUNNING! It is an amazing story that was perfectly executed on film by Ang Lee. The 3D is incredible but honestly, all it does is enhance a masterwork. It doesn't distract. This is certainly my front runner for Best Picture Oscar. It probably won't win, but it deserves to. The entire time I was just mesmerized. I LOVED this movie. The older Pi is an actor that I have come to really love and the younger Pi was outstanding as well. And Richard Parker is probably the best realized digital character since Gollum in The Lord of the Rings.
Skyfall was great but it's not my favorite Bond movie. It's not even my favorite Daniel Craig Bond movie (that would be Casino Royale). I guess the problem I had with this one was it seemed too small. Javier Bardem makes a great villain as Silva, a former MI6 agent with a grudge, but he's not a "supervillain." His big plan is really just to kill Judi Dench as M. Humiliate, then kill her. That's not enough. I want my Bond bad guys to have more grand schemes. I want them holding the world ransom with threats to destroy the sun. I want them to take custody of the entire supply of fresh water on the planet. I want Bond to do what he does best to save the World, not just Judi Dench. That being said, I did enjoy all the shout outs to former Bondisms. The new Moneypenny was beautiful and fun. The old Bond car was neat to see and the ejector seat joke was super funny. The woman who Bond seduces, loves and then can't save from a horrible death was a wonderfully cast vision of perfection. So my final word is, go see the new Bond. It's a fun movie to watch, but next time James better be saving all of us. (Perhaps from a mutated army of super intelligent dolphins that have been adapted to walk on land and take their vengeance on humanity for our poor treatment of the environment?)
You probably have heard the story by now of the fake movie that helped some of the Iranian hostages escape back in 1980. This is indeed a great movie because it keeps the suspense up throughout, even though if you know the story, you know the outcome. So I guess that's the accomplishment here. Besides the great costumes, set design and make up, you have a fun and exciting film. I enjoyed it. It's worth a watch.
Cloud Atlas was an fun and interesting movie to watch but I didn't love it. At first it was a little hard to follow. You are literally watching 6 movies at the same time with a very thin line connecting any of them together. Most of the actors play multiple roles and appear in each story so that makes it slightly more difficult at first because you may think the characters they play are related. We've seen other movies with multiple story lines inter-cut like Short Cuts or Pulp Fiction but the intersections over time seem to be what makes this one slightly different. It also attempts to highlight our "interconnectedness" but I'm not sure how successful this was. Anyway, it's worth seeing once but probably not twice.
We watched the original Frankenweenie before we went to go see this one. So it was fun to compare the original live action version with the animated remake. We liked them both. This new version is more epic and probably incorporates more of the stuff Tim Burton wasn't able to put in the live action short version. I especially liked all the science experiments that went "wrong."
Looper

+
I saw this movie had pretty good reviews and I had high expectations going into it but WOW! I was unbelievably blown away by this movie. It is a secret gem in this years already crowded field of awesome movies. This thing I liked best about it is it's a wholly original story. Not a sequel or a mash up (although I'm sure will extract elements of other stories and films.) I was on the edge of my seat and had no idea what was going to happen next. The time travel raises all sorts of questions as you watch, but you are too distracted by how cool the movie is to really care. We are about to get hit by the wave of year end Oscar contenders, so before that happens go see Looper. It's worth it, and probably the last big action fun film of 2012.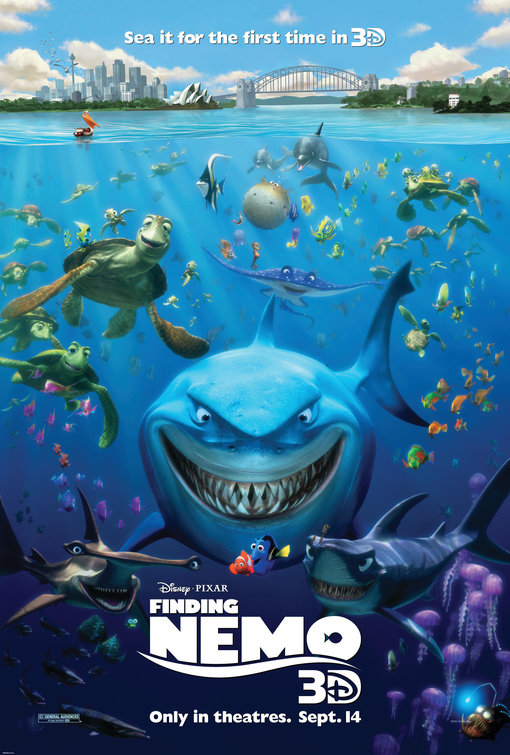 Wow! This is what a 3D retro fit should look like! This film looks amazing in 3D. The depths of the ocean go on and on and the 3D makes this incredible. If you're kids haven't seen this in the theater, you gotta take em! It's expensive (crazy expensive) but pretty worth it. You already know it's a great movie, now see it again like you never have before.
PS: The preview for "Monsters Inc 3D" looks incredible as well. That one looks like they may have re-shot some stuff, because the 3D enhancement made everything look slightly better than what I remember.
This was a funny and fun movie. It takes a few minutes to get used to the stop motion animation. We're so used to the fluid Pixar and Dreamworks stuff this is kind of a throwback. It has a great story though and is just scary enough that kids will enjoy it.
So it's a Bourne movie without Jason Bourne that sort of runs parallel to the last Bourne movie. Jeremy does great slipping into the Matt Damon role so no worries there. It's a fun movie but will be meaningless and confusing unless you are well versed in the back story and characters of the previous films. It can stand alone as a fun action movie, but if you need to understand, you will have to study up before you watch.
I'm warming up to Will Ferrell. In another 20 years I may even like him! At least now I can tolerate his comedy, so I enjoyed this movie. For a rated R political satire 3 months before the presidential election, it's pretty tame. I expected it to be far more dark and edgy. Instead it was cute and fuzzy. This is not to say that it was not funny. It's super funny. But it's much more broad than I was expecting for an R movie.
Like most people, all I remember about the original Total Recall movie was that there was a hooker in it with 3 boobs. So when I heard they were making a remake I was happy. With all our new enhanced film making technology would the hooker have 4 boobs? 5? It didn't matter. As long as there was a hooker in the movie with more than 2 boobs we could all be satisfied. And the new Total Recall doesn't disappoint. 30 minutes or so into the film the hooker arrives. I won't spoil the whole movie for you and tell you how many boobs. After that scene, for the rest of the movie the Underworld vampire chases Colin around through a series of really cool sets and cityscapes. Me likey!
After all the excitement with the crazy shooter, I forgot to write my review of this new Batman film. Well, obviously I loved it. It's Batman! It was awesome! Not "Dark Knight" awesome, but better than "Batman Begins" awesome. And I suppose it put a nice bookend on the series by tying it back to the first movie. Mission accomplished. I loved the villain Bane. His voice, which I have read lots of complaints about, was music to me. In the same way I was super happy every time The Joker came on the screen in the last movie, I was super happy every time Bane came on and spouted his soliloquies in this one. I thought his voice was cool. So there... Good end to the trilogy, cool voice, hurray for Batman.
Meh. Is that a good review? I didn't love this movie or hate it. I was a little disappointed because it seemed kinda tame for a Oliver Stone film. At one point there was a weird anti-marijuana message that seemed like something that was forced into the movie so kids don't become interested in drugs? It was plenty violent and everyone looked nice, so I guess that's something.
A big budget Spiderman reboot? Of course I loved it. It's Spiderman! Took the whole family to see it on The 4th of July. You could say it's too soon for a reboot, but why would you say that? Are you still watching the old version? Grappling with the nuances? Most comics including Spideman have multiple story lines in multiple realities in multiple universes being printed simultaneously. What's wrong with doing that with the movies? Nothing. That's what. The only thing that was a bit distracting in this movie is that Andrew Garfield and Emma Stone are a little too old. We've already seen them play adults in other movies, so the move back to High School was kind of a stretch and will be even less believable in subsequent sequels, but the movie was awesome, so in the end...who cares?
Wow! I knew I was gonna love this movie because I LOVE all Wes Anderson movies. Moonrise was no exception. The best part of it, is it takes elements from all his previous films ( Royal Tennenbaums, Rushmore, The Life Aquatic, etc.) and blends them, perfectly, into another amazing and intricately told fable. Everyone in the film is perfectly cast, including some surprises - like Bruce Willis! I can't wait to see it again. The best part about repeated viewings of Anderson movies is looking at all the little tiny details in the background...and this movie is jam packed with them!
Brave is a good Pixar film just like they all are, but I didn't love it. I'd put it in that 2nd tier of Pixar films with Up and A Bugs Life. I guess I was kinda disappointed because the previews didn't really accurately tell us what the film was about, so my expectations were totally different than what the movie really was. I suppose it's weird to be upset that the previews didn't ruin the film. It's a great kids movie, although it might be scary for really little kids, and of course you have to see it, so I won't say anything else about it.
I saw this movie opening weekend and loved it. It was pretty much what I expected and it was neat to see all the stuff leading up to the first Alien film. I'm seeing a lot of backlash against it now online, but I'm not sure why. One friend was going on about it on Facebook mentioning how unrealistic a lot of it was. Other reviewers felt the characters and plot were weak. I guess my expectations for a summer Alien movie were pretty low because I didn't have any of those problems. I think the problem many people have with this prequel is the same problem that they have the Star Wars prequels. They have elevated the original in their mind as an unattainable masterpiece. Prometheus fits fine in the Alien series. Quit being such nerdy cry-babies!
The family has been super excited about the new Men in Black movie. For the last 2 weekends we watched the first and second MiB movies to prepare ourselves. Sasha and Anya are now MiB super-fans. Although their favorite character is Frank, the talking dog, and he was not in this 3rd movie. :( But pretty much everyone else was in it and it was a lot of fun. Josh Brolin does a killer Tommy Lee Jones impersonation and Jemaine Clement of The Flight of the Conchords (also a family favorite) is great as the villain.
I love all three of the Sacha Baron Cohen movies (Borat, Bruno & The Dictator). This one is no different. They're all gloriously offensive and I think they are all hilarious. This one might actually be my favorite of the three.
I wish I could say something bad about Battleship. I suppose the worst I can say is that it has nothing to do with the board game that it's supposed to be based on? But after I say that all I can say is that it was an AWESOME ALIEN INVASION MOVIE. And if you know me, you know Alien Invasion movies are what I'm all about so... Hurray for Battleship!
Sorry for the late review. I've seen this movie twice in the theater already. Went opening weekend night with Sasha, then a few days later with Holly. Obviously I knew I was going to love this movie, but I REALLY REALLY loved it. The second time was even more fun. No that's not true. The first time was better. I was expecting it to be awesome but I was blown away. You know how exciting it is when a super hero makes a cameo in another superhero movie. Like Wolverine in the X-Men reboot last year, or Tony Stark in the bar at the end of the Incredible Hulk? If you're like me, that kinda thing is like a slice of fried gold. So imagine how awesome it is when it's happening every few minutes throughout The Avengers. Seeing them all fight together, with each other, or just standing around chatting is like some kind of crazy dream.
The action in the film is amazing. The last 40 minutes is one huge battle that I could have watched for days. All the actors do an awesome job. Especially Mark Ruffalo and Scarlett Johansson. Also the film is the funniest movie I've seen since Tucker & Dale vs Evil.
Spoiler: Don't read any further is you don't want the end ruined.
There is one thing I'd like to mention about the big ending. I've been teased since 1996 about how "stupid" and "unrealistic" and "ridiculous" the end of my favorite movie of all time, Independence Day, is. I'd just like to mention to all you people who love The Avengers that the way Tony Stark (Ironman) destroyed the Alien Invasion was exactly the same way Jeff and Will did it in 1996. Exactly. It even had the same effect. (Also baby Anakin did kind of the same thing at the end of the Phantom Menace.) So suck-it haters! If your planet is being invaded by aliens, the sure-proof way to end that attack immediately is to send a nuke to destroy the mothership. It works every time. Guaranteed! It's called "The Independence Day Maneuver." God Bless Jeff Goldblum.
Took the kids to go see this. It was pretty funny. I especially liked all the stuff with Charles Darwin. I still think claymation is nifty.
I LOVED this movie. But I kinda love everything Joss Whedon is associated with (hopefully Avengers will continue his streak of perfection). I'm not going to talk about it too much because there's some important twists that hopefully you won't know before you see it. From the previews you probably think you know what's going to happen, and as you watch the movie you will figure it out before the reveal, but once it starts you will enjoy the ride. The movie gets more crazy and more fun right up to the end. The stoner character is really funny and I like that actor from his role on the Joss Whedon show Dollhouse (which was also AWESOME if you never saw it.) Anyway, I don't know what else to say since I can't discuss the story or characters without blowing the surprise. Go see it. There's nothing else really out right now that's more important.
My mom wanted to see this with the kids when they were here visiting. My mind was wandering while I was watching this movie. That never happens. I can watch really really bad movies with rapt attention throughout. So something was wrong here. I don't remember much about this movie except that I really like the director Tarsem Singh's visual style and costumes. The movie looked really cool, like all his movies do (The Cell, Immortals) and the Queen's costumes were amazing. That's all I remember. Oh also Nathan Lane was funny.
OK Chuck, Here's my review. Of course I loved Hunger Games. I read all 3 books in a row last summer right after I read all 3 of the Dragon Tattoo books. That was a good summer of reading! Now I kinda wanna see Katniss fight Lizbeth. Who would win?
Anyway, The movie was everything I hoped it would be and more, but slightly less. What I mean by that is, they really stuffed a LOT of the book into the movie but to get that PG-13 (and win highest grossing series first episode box office ever) they had to skimp on violence. The games are much more brutal in the book and this will continue to disappoint me in the next two movies since the 2nd book is even more violent and the 3rd book is a absolute bloodbath. So my lust for violence was not sated, but on the other hand the casting of this movie was amazing. Everybody in the movie looked EXACTLY the way I envisioned them as I read the story. And all the sets and everything looked perfect too. This is a movie that definitely should not disappoint the book lovers. Almost everything got in the movie.
I will say though that if you didn't read the book, you may not really understand some of the characters. It doesn't matter because they all do everything they need to do in the movie, but you may not understand why they are the way they are. Anyway, if you want to better understand Haymitch, Cinna, Gale, Effie, or any of the other people besides Katniss and Peeta, read the book. Plus as a bonus, you'll get more of that sweet, sweet violence. :)
Wow! The best part about this movie is that the conservatives, Republicans, capitalists and other anti-environmentalists are going to absolutely HATE it. Then they'll all cry boo-hoo: "It's all part of the Hollywood elite's left wing propaganda machine brainwashing our children to care about the environment! Those bastards!" That's a sound, a sweet sound, that I simply must hear. So I'll go visit Hannity, Fox News and The Post. Drudge and The Standard and poor Breitbart's ghost. And I'll hear them all whine, like they do all the time that they're all being treated unfairly. As they sit in their mansions and type in their blogs that the democrats don't tax them squarely. :)
The best part is the song "How Bad Can I Be" that the Once ler sings, as he ramps up production at his factory and decimates the forest and all the animals in it. That said, the essence of the original story is here, maybe even a stronger version of it but, this is really a re-imagining of The Lorax. Which is fine and fun and the message from the original is still front and center, so all is well, unless you're a Capitalist. :)
Best Lyrics from the song:

There's a principle in business (principle in business)
That everybody knows is sound
It says the people with the money (people with the money)
Make this ever loving world go 'round
So I'm biggering my company
I'm biggering my factory
I'm biggering my corporate sign
Everybody out there can take care of yours
And me? I'll take care of mine mine mine mine mine (shake that bottom line)

Let me hear you say smogedy smoke (smogedy smoke)
Schlopadee Scholp (Schlopadee Schlop)
Complain all you want it's never ever ever ever gonna stop

Come on now how bad can it possibly be?

How bad can I be?
I'm just building the economy
How bad can I be?
Just look at me petting this puppy
How bad can I be?
A portion of proceeds goes to charity
How bad can I be?
How bad can I possibly be?
Let's see

All the customers are buying
And the money is multiplying
And the PR people are lying
And the lawyers are denying
Who cares if a few trees are dying
This is all so gratifying

How bad
How bad can this possibly be
Spoiler Alert: OK, so Sasha really wanted to see this movie. So we went and she liked it, right up until the part where the baby whale dies. At that point she was furious. She said they should have called it "Little Miracle" because only 2 out of the 3 whales in the family survived. The story is pretty much the same as A Dolphin Tale right down to the actual footage of the real people and the event being played over end credits.
I had to get this review out quickly in case any of you are planning to go to the movies anytime soon. You gotta go see Chronicle! It was AMAZING!

Now to step back, this film is not for everybody. This is a movie about teenage kids who get superpowers so if that's not your thing, disregard the rest.

If you're still with me, then you are wasting time reading this review. Drop everything and go see this movie before it's gone from theaters! I would go see it again if anyone wants to drive/fly down here to see it with me. It was so good I actually had dreams about it last night!

It's shot in a Cloverfield style by one of the kids who, before he gets powers, decides to film his horrible life as an abused and harassed outcast. Later footage is captured by all kinds of media and surveillance cameras. It's not "too shaky" like Blair Witch, so don't freak out and cry that it will make you nauseous.

The special effects are incredible. What I mean by this is that they look really real. Because the whole film is "videotaped" the realness of the effects is enhanced. Plus seeing the development of their powers helps you believe it more. They don't just get powers like Green Lantern and immediately start being heroes. They just play with them at first and pull pranks just like real teen boys probably would.

The first hour of the movie is light and fun as they get the hang of their new talents. The last 1/2 hour goes really dark as one of them "turns villain." So I wouldn't take really little kids to see it.

The actors are all great yet unknown so you're not distracted by stars. The main kid looks like Leo DiCaprio in "What's Eating Gilbert Grape."

The best thing about this movie is that I had no idea it was coming. I saw a commercial for it and thought it looked OK. I read a couple reviews from critics who loved it, and became more interested. Then I went to see it with no real expectations and WAS BLOWN AWAY! This will, no doubt, be way up at the top of my best of 2012 list. Go see it! Go! NOW!

Star Wars: Episode 1 The Phantom Menace 3D

+
Sasha is 7 years old now and has been a huge Star Wars fan for about 4 years. The Force seems to be growing strong in Anya as well. Obviously I'm pleased. That said, I have now seen The Phantom Menace and the other 2 prequel movies in the series at least 20+ times (mostly thanks to Spike TV which should just change it's name to the Star Wars Channel.) This may offend everyone, but I now like the prequels just as much as the other 3. Obviously, Phantom Menace is the weakest entry in the series but here's my defense of the prequels -
What The Star Wars Prequels lack in story or whatever you think is missing, they more than make up for in depth. The prequels have more of everything. More characters, tech, planets, etc. After I wrote a bad review for Avatar a friend of mine defended that movie as containing an impressive abundance of "imagination" with respect to the planet, tech, fauna, flora, etc. I would argue that in the Star Wars prequels, George Lucas is displaying that same amount of imagination and detail every 20-30 minutes! Look at Naboo, The Gungan Underwater City, Courasant, Kamino, Tatooine, Mustafar, Kashyyyk, etc. Have you ever looked past Jar Jar and allowed yourself to be blown away by the planets, architecture, alien races and local tech? Look at Queen Amidala's wardrobe! Awesome! The pod racing vehicles were cool! The planet city of Courasant is one of the most incredible places I've ever seen on film.
Here's something that will really rile people: CGI Yoda is a super-cool bad-ass that would stomp original puppet Yoda to dust! Next time you're going off on Jar Jar, go rewatch the scene when Luke first meets goofy puppet Yoda.
Here's a real test, watch the whole 6 movie series back to back. 4-6 might be your favorites, but the production value diminishes significantly between 3 and 4. When Sasha watches the series today she notices these things. Why can't R2 fly? Why is Yoda a puppet? Why doesn't Princess Leia ever change her clothes? Why doesn't Luke use his lightsaber to cut through blast doors and other stuff? Why aren't there more robots and aliens walking around?
Maybe Lucas should just remake the first 3 films using the technology that he used in the prequels? How's that for blasphemy?
Here's a good article that echoes my prequel sentiments: http://www.geeksofdoom.com/2008/08/07/11-reasons-why-i-didnt-completely-hate-the-star-wars-prequels/
Regarding the new 3D treatment: I think it looks pretty sweet and is a nice enhancement to the series. I can't wait to see the other 5 in 3D!
Everyone has seen this movie so I don't need to tell you it's a good Disney film. What really surprised me was the 3D was awesome! I've seen other films, like The Clash of the Titans remake, where the 3D effect was added after the movie was complete and it's always been mediocre to disappointing. This detail of this 3D was VERY impressive. The layering especially. Anyway, I liked it and I've seen this movie 100's of times, but this time was almost like seeing it again for the first time.
2011 Movies

The Girl with the Dragon Tattoo

+
Disclaimer: I was a fan of this book series and the original movie Millennium Trilogy before I saw this film and already decided many months before seeing it that it would be my favorite movie of the year.
That being said, this movie was awesome. I can't wait to see it again, and again. I love this series. I LOVE Lisabeth and the girl who played her (Rooney Mara) in this version was even better than the original. I also loved Daniel Craig (James Bond) as Mikael Blomkvist. This movie version was more in depth than the edited version I saw of the original film (since then they have released and extended version of the original 3 films, but I haven't seen them yet.) It was everything I hoped it would be. Completely met my high expectations.
I saw this movie over Christmas. I don't really remember it well. I liked it, but obviously I didn't love it. The effects were fun but for some reason I can't recall anything about it.

Alvin & The Chipmunks: Chip Wrecked

It's a Chipmunks movie. It was funny. The kids liked it.

Mission Impossible: Ghost Protocol

This movie is just one long crazy over the top action sequence. I mean that in a good way. It was super exciting and fun. Shaun of the Dead was really funny in it as the tech guy on the team. This is a fun summer movie that for some reason is playing at Christmas, so don't expect great drama or rich story or anything. But if you like explosions.... Ghost Protocol!

Sherlock Holmes: A Game of Shadows

I really liked Game of Shadows. I actually liked it even more than the first film. Professor Moriarty made for a much cooler villain. I also liked all the slow-mo fighting (like in the first film) and the slow-mo gun fight in the forest. All very cool and very fun.
I am making an exception to review this movie. Usually I only review movies I see in the theater. Unfortunately, even though I would have been there opening day, this movie never opened in my area. So why the special consideration? Because Tucker & Dale Vs. Evil is one of the funniest best movies I've seen in years! I got the DVD this week and watched it twice the day I got it! It's super super funny. I'm bringing a copy to Michigan for Christmas and there WILL be a required screening. The story is familiar, "Deliverance" meets "Wrong Turn" meets "Evil Dead" etc. But this time we see it from the hillbilly point of view and they're not at all evil just confused about what is going on. You get the idea. Now you need to literally stop what you're doing and go buy/rent/download and watch this movie immediately (Unless you are a Rowland or Fisher, you wait till I get there at Christmas). I am confident that this movie will be my number 2 pick of the year (right behind The Girl With The Dragon Tattoo.) It was way, way more enjoyable than most of the movies I saw this year.
The Muppet movie was really funny. Even more so than I expected. Since most all of the guest stars and adult humor was directed at my demographic it was a very good holiday movie to see over the Thanksgiving weekend with the kids. The song "Man or Muppet" was super funny.
Hugo is a beautiful 3-D family movie with a neat story directed by the great Martin Scorsese that will bore a child to death. I would NOT recommend it for children.
This "300" ish movie is a fun action movie that is beautifully filmed. The fight sequences, especially between the Gods and the Titans are amazing. The story is interesting enough. I really liked this movie. It will probably be amazing on Blu ray.
I was both super disappointed and sort of entertained by this movie. I liked it. It was as fun as the other 2, but....But...BUT... If you saw the previews for this movie, you were wildly misinformed. And I mean this literally, Probably 2/3 of the scenes in the trailer, WERE NOT IN THIS FILM! And that was disappointing. Remember the little girl jumping from the loft bedroom down to the main floor of the house? It's not in the movie. The scenes with the mother filming the girls in the mirror? It's not in the movie. The scene where the little girl throws the water and it hits something invisible? It's not in the movie. And so on and so on.
Sasha was dying to see this movie. It was a fun, nice, funny, family film. There is a neat part at the end where you see all the original footage from the actual saving of the dolphin and rehab. It's cool to see the dolphin when it was younger and what the real people looked like. The guy who was played by Harry Connick Jr. must have totally bribed the casting director. :)
This was a great epidemic movie. It's like a zombie movie where the zombies all die soon after they are infected. The scary part of this movie is the collapse of society and the fact, that I now believe to be true, that our government and the authorities we assume will protect us are completely unprepared. After 9/11, Katrina, the tsunami and earthquakes in the last few years, I've never been more certain that we are literally living each day as if it's our last. Nobody is prepared for anything and we're all doomed.

Rise of the Planet of the Apes

I've never been a huge fan of Planet of the Apes. It just never appealed to me. Of course I saw all the movies and the TV series when I was a kid. So even though this movie got great reviews and the guys at my comic store told me it was awesome, my expectations were kind of low going in. So I'm happy to say that I LOVED this movie. It was way, WAY better than I ever could have hoped. It had a great story and it really did a fantastic job of explaining the whole origin of The Planet of the Apes. You find out how and why they got so smart, what happened to the humans. You see the Mars mission that leaves Earth and then get lost. It was fantastic! Plus you really feel for the characters and get really excited when the apes start to break free. Definitely go see it. It's probably the last of the great summer movies of 2011.
I was really excited to see this movie. And I enjoyed it but not as much as I hoped I would. I'm not sure why. Maybe too much cowboys and not enough aliens?

Captain America: The First Avenger

I really liked Captain America. I thought it was a great origin story. I especially liked that it took place in the past (during WW II, one of my favorite movie and documentary subjects) and that it included more of that historical revisionism that I spoke about in the Transformers and X-Men: First Class reviews below. Great action sequences.

Harry Potter and the Deathly Hallows: Part 2

Spoilers, Be Warned: OK, Pot Heads, or whatever you call yourselves, don't be mad. I was disappointed in the final Harry Potter movie. In the weeks leading up to this final movie I watched all the pervious 7 films back to back. So I was all caught up and ready for the big finale. But there was no big finale. Remember the end of the Lord of the Rings Trilogy? It went on and on and on. You had invested about 12-13 hours in these characters so the movie had like 7 endings where you found out everything about all the characters and had closure and resolutions. Potter had none of this! It ended abruptly, had a brief flash forward that told little, then just ended. I felt robbed. I just spent about 20 hours watching these movies and I have no idea what happens to any of the characters who survived the final battle between good and evil. Also I though Voldemort was defeated too easily and Snape's death happened so fast and for no reason. (This was especially disturbing since we find him to have been the central hero of the entire series) I have since found out that everything in the film is pretty much what happens in the book. So I guess I can't blame the film makers but I was still not pleased with the end of the Harry Potter Series.

Transformers: Dark of the Moon

+
I love the Transformers movies. Even without Megan Fox, this was an awesome movie and it was the 2nd movie this year that I took Sasha with me when I went to see it, so that was fun too. It had a good story that included the Transformers being responsible for the moon landings and Chernobyl. So that was cool. I'm enjoying all the historical revisionism in Sci-Fi and other movies lately.

Cars 2

+
Cars 2 was probably the funniest movie I saw this year so far. I loved the spy stuff. I loved that at the beginning of the movie Finn is being taken to a secret location in the middle of the ocean by Sig Hansen in The Northwestern from Deadliest Catch. There were so many fun things packed in this movie I can't wait to see it again to catch all the stuff I'm sure I missed.
I'm not sure why the reviewers decided to crap all over this movie after they heaped such praise on Thor. I loved it. It's basically the reverse story of Thor. Instead of a God (Thor) who falls to Earth and becomes a hero, Green Lantern is about a guy who gets pulled off Earth to another planet to become a God-like super hero. The effects were great, the origin story was covered, what more do you need?

Super 8

+
This movie was amazing! Easily my favorite movie of the year so far. It's the ET for the new millennium. I would not recommend it for little kids, for a PG-13 movie it does have some scary parts. The story is fantastic and the special effects are outstanding. The train crash is terrifying and the alien is really scary. The kids in the movie all do a great job. make sure you stay through the end credits to watch the zombie movie that the kids are making throughout the film. I LOVED this movie. I almost never go see movies a second time anymore but if someone asked me to go, I would go watch this movie again today!
This was the first "Daddy movie" that I took Sasha to. So now I have a movie buddy for my stupid super hero movies! Not that X-Men: First Class was stupid, it was actually really really cool. I hope they continue with these actors in the roles. James McAvoy is great as Professor. X. There's a running joke through the whole movie about how protective he is of his hair. That was fun. And Michael Fassbender from Inglourious Basterds is absolutely outstanding as Magneto. The cameo by Hugh Jackman as Wolverine is super funny too. Not that the movie is a comedy. It's a really neat retelling of the Cuban missile crisis - The story we didn't learn about in history. So anyway this is a great reboot for X-Men. I can't wait to see the next one.
I loved the first King Fu Panda. I often suggest it for the kids to watch just because I secretly want to watch it myself. This movie is really funny. It doesn't have that same kick (ha-ha) as the first but it's a serviceable second and it ends with a peek at the 3rd, so we know that Po and The Furious Five have at least one more adventure.

Pirates of the Caribbean: On Stranger Tides

Meh. I guess it's worth watching if you've watched all the others so far, but I honestly forgot everything about it already.
Thor was awesome! Maybe I'm just geeked because there hasn't been a good super hero movie in a while. That will probably change since there's like 10 more coming out over the next few months. The neat thing about this movie was it seemed more mythic and grand. I would probably credit Shakespearean director Kenneth Branagh with that. The story has a real comic book feel in it's scope. Also The Destroyer, an enchanted suit of armor forged by Odin, looks perfect and makes one of the scariest sounds I've ever heard in a movie. It's actually like a "new sound" which is what makes it so memorable. Anyway, if you haven't seen it check it out.
I expected Hanna to be a little more like Kick-Ass by way of Jason Bourne. And I suppose it was, but it was more of a weak PG-13 version of both. That was unfortunate. I really wanted to love it. It was OK, but not as exciting or violent as I wanted it to be. Sort of the same problem I had with Sucker Punch. I really need to see an R rated movie, ASAP.
I can't believe this is happening. I really really really wanted to love Sucker Punch. God I wanted to love it. I liked it for sure, but even though it had all the elements of a perfect Alan movie, it fell short somehow. And as Iíve had a few hours of sleep and can think about it, I think the problem was that it wasnít long enough. It needed more. This was an original story from director Zach Snyder (who Is currently one of my favorite directors.) His slavish adaptations of graphic novels (Watchmen written by Alan Moore and 300 written by Frank Miller, both masters) gave him not just the perfectly realized story but the actual storyboards for those films. He might have benefited here if Sucker Punch was first a graphic novel as well. Iím not saying the story was bad (you know how I hate that kind of review) but I felt like there should have been more transitional scenes. Maybe a DVD directorís cut will add back an hour more movie that the studio perhaps made him cut to bring the movie in under 2 hours.
The girls were all super sexy-perfect, but I did have a problem with the main villain. He was just too little (literally) and not menacing enough. He has a scene near the end where he comes close, but had he maintained that level of intensity throughout, it might have given more urgency to the girls struggle.
Anyway, is it worth seeing? Definitely, of course. Visually itís stunning. And for those of you (reviewers) who have a problem with movies being ďtoo much like watching someone else play a video gameĒ? - Man, are you going to hate this film. Itís so much like watching a video game your hands might actually involuntarily lurch forward at certain moments to grasp for the controller. Anyway, Sucker Punch, I like-liked it, but I'm not "in love" with it.
PS: Later in the day I realized what was missing from Sucker Punch. An R Rating. All of the Zach Snyder movies that I've seen and loved have been rated Hard R. I said above that the movie seemed "edited for length", that may be so, but it was also dulled down in content to get the PG-13 rating. This may increase box office, but it diminished appeal.

Paul

Paul was not the next great movie of 2011. It was really good though. Super funny. There were so many awesome Sci-Fi references in it. It was really geared toward the uber geek Comic-con crowd. It even starts at Comic-con! The casting was great. I wish there was a movie with Shaun and Ed in it every year. They're a great comedy team. My only problem was that I didn't really like Seth Rogen as the voice of the alien, Paul. His voice has become clichť, if that's possible. Maybe I'm just sick of hearing it. I don't know. It was funny in the first 100 movies he was in last year but now I'm losing interest. More inspired voice casting would have been someone like David Duchovny. Anyway, Paul is definitely worth watching. Waiting for Netflix will probably be alright though.

Battle: Los Angeles

+
Allow me to use some of the bad things I read about it to illustrate why it was so great.

"It's like watching someone else play a video game." said more than one reviewer. True: It is EXACTLY like watching the best Alien Vs. Military video game ever made, played by the best person who ever played the game. Why is this a bad thing? Video games these days are amazing, and I'm amazingly terrible at playing them. The only way I will ever get to see this movie/game is if someone plays it for me, and that seems a perfect fit for how lazy and unskilled at video games I am. Also, isn't watching someone who is awesome play a game that you love just called "watching sports"? So what's the difference?

"Battle: Los Angeles is just a hybrid of Black Hawk Down and War of the Worlds." said the Chicago Tribune. Are you kidding me? If I see a movie poster that uses that as it's tagline, I drop whatever I'm doing at that moment and go see that amazing movie immediately! So what you're basically saying Chicago Tribune is it's like two awesome movies for the price of one? It's twice as cool? It's two times as exciting? What's your point?

"It has no ending! There's no character development! There's no story!" paraphrased from various reviews. The movie is called "Battle: Los Angeles". It was not called "The Epic and Complete Account of the Alien Invasion of Earth and Everything that had Anything to Do With It". What you see in the movie is the Battle for Los Angeles. If you need more, then this isn't the movie you want to see.

I think I made my point here. I can keep raging and defending what was basically the first GREAT movie of 2011, or I can stop and move on to what I hope will be the next great movie of 2011.

The Green Hornet

I forgot to write a review for this, my first movie of 2011. I remember it was fun and I liked it, but I didn't love it and now only 2 months later I can literally remember nothing about it.
---
2010 Movies
Wow! Was this a cool movie. VERY Aronofsky. Remember Requiem for a Dream? Queen Amadala and The That 70's Show girl did great jobs. This movie might give you nightmares. But they would be good nightmares!
Besides the fun of watching the girl in the poster above for 2 hours (Thirteen from House), Tron is basically a 3-D Motion Ride. It looks awesome and it's really fun. If it wasn't so expensive I would ride again!
When I heard about this movie I joked it was going to be an hour and 45 minutes of a guy screaming "Help!" and then 5 minutes more screaming while he cuts off his own arm. The funny thing is that pretty much is the whole movie! But it's amazingly engaging. I remember seeing this story on the news, so the end was no big surprise, but it is a great film that tells the story in a very entertaining way. And if James Franco isn't nominated for an Oscar it will be a crime.
All the critics and the rest of the population of the planet got it wrong again with this one, Skyline was awesome! A cool Alien Invasion movie! Hells Yes! Sure it was a mash up of a bunch of other movies (The Matrix, Independence Day, The Mist, War of the Worlds, District 9, Cloverfield, etc.) but if you look at the list they stole from you pretty much see most of my favorite movies of the last 15 years. So lets see, they took ideas from all my favorite movies and combined them all into one kick-ass movie - Does Alan approve? Bigtime! It was like watching a custom movie that was specifically made for a target audience of me!
In keeping with it's tradition of releasing 2 movies with the same theme in the same year (Armageddon/Deep Impact, Dantes Peak/Volcano, Tombstone/ Wyatt Earp, Capote/Infamous, Braveheart/Rob Roy, Valmont/Dangerous Liaisons, etc), a few months after the super funny "Villain becomes Hero" movie Despicable Me (See Below) we get the not quite as funny Will Ferrell version with Megamind. I thought this film was funny (calm down Rowland Family) but I liked DM better. I'm sure my lifelong distaste for Will Ferrell had something to do with my not liking the movie as much.
The Social Network is the story of the creation of Facebook. I'm basically writing that for my Mom & Dad in case they read this. It was a very interesting and rapid fire talky movie. I really liked it. Will it win Best Picture, maybe, but I hope not. It definitely should win Best Screenplay and it's probably the weakest year in the history of movies, so that will help it's chances for Best Picture. My pic for Best Picture is Inception.
OK, I'll try to be more calm in my review of this since I seemed to have led everybody astray with my glowing reviews of the first Paranormal Activity movie. The cool thing about this one is that it's a prequel that includes all the stuff from the first movie and actually explains a lot about why what happened in that film happened. It's got a bit more spooky stuff and the infant baby and dog are cool victims for the demon.
Wow! I really really liked this movie. First off Hit Girl from Kick Ass is the little girl vampire. The violence is rated R. The story is a sweet pre-teen love story. NOT a crappy boring Twilight-type vampire love movie. This was a great film and pretty topical with the bullying story-line. I highly recommend it.
I was crazy excited about Resident Evil 4. I LOVE the Resident Evil movies and this was gonna be in 3-D! The first 3-D Zombie movie! But... I didn't really like it. Not as much action as I had hoped. Nowhere near enough zombies. And now that there's an endless supply of Alices (see end of Res Evil 3) there's no real concern for her dying. I guess I still liked it, but didn't love it like the last few.
I was super excited when I heard they were making this after seeing what I thought was a fake preview in Grindhouse. I LOVED Machete. It was basically Grindhouse Part 3. It had cool stars, over the top violence and lusciously unnecessary nudity. I wish Robert Rodriguez would make all my movies. He's one of those can-do-no-wrong directors.
Ok, so obviously this isn't a great movie, but I'm going to have to insist that you go see it at the theater. I've seen lots of things in my life, but it wasn't until last weekend that I saw naked girls in 3-D being eaten by prehistoric fish. But now I can happily check that off my list. The movie is fun enough to be worth dragging your lazy butt to the theater, and shelling out the 10 bucks or whatever it costs. It's got a fun cameo at the beginning by Richard Dreyfus playing his character from Jaws, and it's got a handful of halfway decent actors for such an obvious B-Movie drive-in type flick. The gore is awesome too. So do you really want to miss this? It's not going to be the same on DVD. At home with no 3-D you're not gonna have as much fun.
Oh my God, this movie was so awesome! I LOVED IT! It's currently #3 of my top 3 movies of the year. Right behind Inception and Kick-Ass. It's directed by Edgar Wright (The guy who made Spaced, Hot Fuzz and Shaun of the Dead). I love everything he has done, so he's still on a roll. The only problem with the movie is that it's actually too cool. As a 39 year old, I'm not hip enough to really be a fan of Scott Pilgrim, and I never read the graphic novels, and I'm not a gamer, so there's probably a ton of cool stuff in the movie that I don't even know about. But what I saw was amazingly fun and that's all I really care about.
Watching Angelina in sexy action hero mode is worth the price of a ticket. This movie is a non-stop action sequence. Plus the old school Russian bad guys are a neato throwback. You'll see the twists coming from a mile away, but it's a fun ride.
I wasn't sure it was going to happen but it did. Kick-Ass just got bumped off the top of my list for Best Movie of the Year. And looking ahead I'm pretty sure the year will end with Inception head and shoulders above the rest. Awesome doesn't even begin to describe it. It's so cool. I saw it in IMAX and that was totally worth the extra 3 bucks. It was huge and the score was deafening. I LOVED this movie so much. The story, while borrowing heavily from older movies like Brainstorm, Dark City and Existence, still was very original and gripping. This is the must see movie of the year. I command anyone reading this to go see it immediately. Your life will literally be meaningless if you don't see this movie. It's that good.
This movie was super cool and super funny. The minions were totally the best part of the film. They need their own spin off series like the Madagascar Penguins. This film really used some of the old school elements of 3D too. Especially the stuff in the final credits where they show you just how far 3D can go. This is still in theaters, so if you have a kid who hasn't seen it yet go now. If you don't have a kid go anyway, it's hot outside and it's a fun 3D movie!
The Karate Kid
I really liked this movie and I really liked that for some reason Sasha was super excited to see it. It followed the original story very respectfully although this new one had a slightly more serious tone. The scorpion flip kick at the end of the film had me practically standing in my chair cheering and would have destroyed the original Daniel-son's lame crane-style finale kick. It was also cool that Jaden totally reminds me of Will Smith. He even does some of the same facial expressions. It's nice to know that I'll get to keep seeing Will Smith classic or 2.0 versions for the next 70 years or so.
I'm really glad I have kids so I have an excuse to go to all the kid movies this summer. And this might be the best kid movie summer ever. After all that I read and knowing this is Pixar I was expecting nothing short of excellence and it was delivered in abundance. I was a little worried that the third installment of Toy Story couldn't possibly live up to it's 2 predecessors, but it totally did and opened the door for more if they want tom make em. I'm not really surprised how hilarious and touching the film was. All the Toy Story films have been that way for me. The song about the girl in the second Toy Story movie makes me cry every time I see it. And this new one had about 3 or 4 of those moments. If anything is wrong with the Toy Story series it's this: it makes it nearly impossible when you get home to get rid of your kids old or broken toys, makes you tip toe around the ones that are currently being played with and encourages you to get the old ones out of the drawers so they can have fun too. I feel guilty now when I secretly throw away stupid cheap Happy Meal toys. Thanks a lot Toy Story!
I really wanted to like Splice. The critics loved it. From the previews it kinda looked like a genetic remake of the movie Species that I loved like 20 years ago. But for some reason I didn't really love it. I'm not sure why.
I LOVED this movie. Now admittedly, I was a fan of the show too. I loved that as well so it was not a great leap to go see this reboot and love it all over again. It was just like an episode of the TV show but juiced up to 11 on steroids. We got to see the backstory that we only used to see in the credits and their first mission together. All the actors were perfectly cast, especially the guy in the Mr. T role. He did a great impersonation, just like the real T! The scene in the falling tank is still fresh in my memory weeks later. Great line: "What are they doing?", "I think they're trying to fly that tank!" Awesome! Go rent it as soon as it comes out.
I'm not sure how it happened but Ridley Scott and Russle Crow made a kinda boring Robin Hood movie. The problem with this movie is it was a prequel. So all the stuff you like about Robin Hood hasn't happened yet and in this movie, never will. In the last epic version of this story with Kevin Kostner, they told the prequel stuff in a 10 minute flashback then got to business. I didn't need to see a 2.5 hour version of that 10 minutes of stuff. Plus Robin Hood is supposed to be sort of lighthearted, not all angry and brooding.
This movie was OK fun. It had pretty good action and a few funny scenes but I don't really remember much about it a month after seeing it so it must not have been great.
So obviously I liked Iron Man 2. It was super fun. But I didn't Love it. I liked the first one better. Most of the reviews I've read so far have talked about how it had too much going on. Too many villains, etc... I actually thought the opposite. From what I remember there were only 2 action scenes in the whole movie. The race track and the final battle with the drones. That's it? The rest of the movie was just Tony having one personal crisis after another. And as far as the bad guys, Whiplash and Hammer were fun, but they really only posed a threat to Tony. There was no real peril for Iron man to save everybody from. Remember in the first movie when Tony got his suit working and immediately flew to the middle East and wiped out an entire gang of terrorists? That was awesome! That was super cool. Nothing like that really happened in this movie. I loved seeing Black Widow and Nick Fury and all the hints at the upcoming Avenger Series, but then what the heck happened to Rhodes? I sort of understand his motivation but it seemed out of character for him to go against Tony to the point of stealing an Iron Man suit. That seemed wrong to me for some reason. In the last movie he always seemed upset with Tony but you got the impression when the time came Rhodey would have his back. Anyway. I know I just complained for a whole paragraph, but honestly I enjoyed the film. It was an Iron Man film after all. Just not quite the one I was expecting.
Babies is a documentary that follows 4 newborns during their first 15 months. The babies live in Mongolia, San Francisco, Japan and Africa so they all have somewhat different experiences. You get to see that with no narration and little or no dialogue for about and hour and 20 minutes. It has funny parts but it's not like stupid America's Funniest Home Videos/You Tube type stuff. It's interesting to see how babies are pretty much the same everywhere for that first year, before they learn to be different. Anyway, if you have kids you will probably appreciate this film. It's fun to see something of your own kids in the kids from other countries. At one point the Mongolian kid couldn't figure out this toy and she kept throwing these little tantrums that looked exactly like what Anya does when she can't figure something out.
It's hard to talk about how much I LOVED Kick Ass without saying it was soooooo KICK ASS! Currently this is far and away my favorite movie of the year.
Here's why... I didn't really know much about it going into it. There was almost no TV ads where I live for the film and I don't think I even saw a trailer at the theater. I peeked at the review scores the night before I went and they seemed favorable so it seemed like a good bet. This was the 3rd movie I watched on Saturday after Clash and Hot Tub. So it was a super-cool surprise when the movie was awesome beyond belief!
First of all it's violent. VERY violent, like over the top Tarantino violence Kill Bill style. And you know I love that. In fact while I was watching it, I was thinking this is like a Michael Cera teen movie written by Quentin Tarantino. It's really funny but has a serious real-life kind of vibe too. It really is kind of like "what if a few normal people decided to try and be superheroes". The results can and would probably be disasterous.
I said before it's funny, and it is. Nicholas Cage is hilarious in pretty much every scene he's in. Plus his Dark Knight outfit and Adam West vocal delivery is awesome.
Next, and here's my favorite part of the movie. Nicholas Cage's daughter is Hit Girl. Hit Girl is awesome. She's the most bad ass 11 year old girl I've ever seen in a movie. Everything she does and says is so over the top shocking and violent I was practically standing in my seat cheering during every scene she's in. Especially the final battle. I can't wait for you too see that.
Also the film is very referential of comic, superhero and pop culture (Like a Tarantino movie again) and I love that.
Anyway, I thought this movie had a cool original story idea, it was very well executed and it was long enough to be both good and funny at the same time. Go see Kick Ass. Go now. NOW!
I remember really liking the original Clash of the Titans. I must have liked it even more than I imagined because even though I haven't seen it since I was a little kid, I seemed to remember pretty much everything in it when I saw it again in this well made remake. Anyway, it's a really fun movie to see, I liked all the actors and the action was fun and nearly constant. It's a great summer kick-off to Action movie season.
PS: This is a movie available in 3D but it was not filmed that way. The 3D effect was added after as an enhancement so I will say that if you have to pay extra for 3D, this movie is probably not worth it. The 3D was good but, since it wasn't planned in advance it doesn't really add anything to the viewing experience. They will probably do this next time they re-release the Star Wars films.
I thought this movie would be great. I like all the actors in it, especially Cusack. But, it wasn't. There were about 4 jokes where I laughed out loud and the rest of the time I was just waiting for it to be over. Kind of like The Hangover.
I'm not going to say a lot about this because it's a kids movie, but I really liked it. The 3D was awesome and it's a great story with tons of fun comedy and action. Loved it!
So I was excited to see this because the visuals looked awesome and I figured Tim Burton would make the best Alice in Wonderland ever filmed. I was "kinda" right. The visuals were neat but not as blow-you-away spectacular as I was expecting. The story was dark and creepy but not as much as I had hoped. (Also, the story is not Alice in Wonderland or Through the Looking Glass, but rather a new story that takes inspirations from both stories and Jabberwocky.) Pretty much all I can say is that is was worth watching but it kinda falls into the same category as Burton's remake of Willy Wonka. Good but not Great.
Spoiler Alert: I really liked this movie. It had some scares, some gross-outs and great action throughout. In the original you saw the perspective of the military, but in this remake they left that out and I think that was for the better. It makes it all the more scary that the government is just rounding everybody up, after infecting them, and killing them all off with little or no explanation what-so-ever. This, in my opinion is how all the insane Republicans and Conservatives see Socialized Health Care. What a bunch of idiots.
I could write a 100 page paper on my thoughts regarding Shutter Island. There's a lot going on in this movie and nothing is what it seems. I don't want to spoil anything so I'm not going to talk about it now. Perhaps in my 2010 Best of list, I'll add my dissertation to this review. For now let me say that this is a GREAT movie. I loved every crazy second of it. Also, as a bonus, what Scorsese has done here is give us a new Stanley Kubrick movie. Everything about this films visuals and cinematography can be traced back to Kubrick. You should definitely see this movie and if you want to talk about it after you do, write me an email or something. I figured out some of the big questions early in the film but there are a few things I still can't explain and probably never will. Awesome movie. LOVED IT!
I really liked this movie. I can't talk about it much because it has a few big twists that I don't want to spoil, but despite the controversy, I think it's a great film. Denzel is awesome and I Gary Oldman is always a terrific villain. It was also a good post apocalypse fix to hold me over until The Road comes out on DVD. I missed that one because it only played in town here for about a week over Christmas while I was away on vacation.
This movie was better than I expected. It was an interesting story, had good actors and had some kinda scary parts. It was a fun movie and a great Vampire alternative to the boring kissy yawn-fest of the Twilight Vampires. Worth watching on DVD when it comes out.
---
2009 Movies
This was as super fun as I expected it to be. I wish there was more origin story, since this is the first of what I assume will be at least 2 or 3 sequels. It kind of reminded me of Batman Begins, in that even though we didn't get the origin stuff, we did get introduced to Holmes and his deductive skills and we got to see him grapple with a minor villain. The next movie sets the stage for the A-List Joker level villain - Professor Moriarty. They did this neat effect a couple times where Holmes presupposes a series of events that then work out just as expected. That was fun. Jude and Robert were great too. Don't miss this one!
Avatar
(one star for each boring dimension)
So here's my review of Avatar. I saw this on opening night on the IMAX big screen in 3D. I didn't like it. I saw it again when I was up in Michigan over Christmas break and I liked it a little better. I went to go see it for a 3rd time last week (Because Holly hasn't seen it yet) and liked it less again. I don't think I'll ever love it.
Here's why. Even though the hype for this film was insane: "It will change the way movies are experienced forever", "Revolutionary", etc... I never really experienced anything new, or that exciting. In fact, this movie is just a 3D mash up of lots of things we've seen done before and sometimes, better.
Same music as King Kong (whenever something menacing is happening ie. The Destruction of HomeTree)

Same tech as Ghost in the Shell (aircopters design was exactly the same). lots of tech was lifted from this groundbreaking manga first published in 1989.

Same Mech suits we've seen many many many times for the last 30 years - District 9, The Matrix, Aliens, Mobile Suit Gundam (started in April 7, 1979 as a serial TV show), and Robert A. Heinlein's 1959 serial Starship Soldier to name a few off the top of my head.

The Story was just a mix of Dances with Wolves and The Lorax by Dr. Seuss.
Here's something that 3 months later I still bother's me: The substance that the whole movie is based on was named "unobtainium". Now I know the movie didn't invent this term, the aerospace industry apparently did in the 50's, but the sci-fi "writers" for this movie could have come up with something that sounded less stupid. If you're just gonna hang your entire film on a dim-witted term, then why not "Can'tfindium", "HardtoLocateium", "PreciousResourceium".
My final word on the movie is this: When you were watching The new Star Wars film, The Phantom Menace, did you ever say to your self "You know that Jar Jar Binks is a fascinating character. I would really like to know a lot more about him, his culture and his civilization." If you did, then Avatar is definitely the film you've been waiting for.
The best thing about this movie it that it is still somehow a Wes Anderson movie. I LOVE ALL Wes Anderson movies so I was happy that I will be able to add this to my collection and watch it along side his other masterpieces. The stop-motion animation takes a while to get used to because it's a little more low-tech and crude than anything we've seen in the last 20 years, but after about 15 minutes you don't really notice it anymore. Not really a movie for kids. I think most kids would be kind of bored.
This was a fun action movie. Rain did a great job in the lead role and the cool matrix-y fight effects were awesome. Also it's pretty brutal violence so that's neat too!
2012
+
2012 was everything I wanted it to be. The movies of Roland Emmerich are among my favorites and include my all time favorite movie ever, Independence Day (The movie that Alan's 5+1 rating was invented for). The previews for this movie pretty much tell you exactly what you're in for. Massive global destruction (Destructo-Porn as some call it) on a scale you have never seen before on film. If you want to see every city on the West Coast break into pieces and slide into the ocean... then this is the film for you. If you want to see the White House crushed by a aircraft carrier and then swamped by a 1000 foot tidal wave... then this is the film for you. If you want to see the Papal Basilica of Saint Peter collapse and roll over and crush the Pope and the masses gathered there to pray at the End of Days...then this is the film for you. I don't know why I love these types of scenes so much, but I do. I LOVE THEM! However, if you want a realistic story with characters that you care about, then for Gods sake... this is NOT the film for you!
I forgot to post a review for this movie after I saw it. It was really good though. Great revenge film (Like Taken.) Gerard Butler was awesome, and I liked seeing Jamie Fox as the victim. He's always so cocky in movies lately. The movie will probably be even better when they release it unrated on DVD. It had some scenes where you could tell they edited out some of the violence.
Paranormal Activity was super crazy scary. I don't remember the last time I was this tense in a movie (Maybe The Hurt Locker, but for different reasons). It's not a stuff jumps out at you kinda film like Japanese Horror (The Ring, The Grudge, etc.) It builds slowly and that's one of the things that's so scary about it.
The film basically involves a couple who leave a video camera on at night to document the supernatural disturbances that take place while they sleep. Then the following day they review the video and discuss and try to figure out what to do. But the disturbances are escalating.
The scenes of the couple sleeping are so scary. The first couple times get you used to it, but soon those scenes are like the first hill on a roller coaster you've never been on. As soon as you see that tape counter start to tick away in the corner of the screen, your muscles tense up and every hair on your body stands on end.
I do want to mention something I think is important. I'm not sure how well this movie will play on DVD. It might be scary to sit at home alone at night and watch it, but I went to a midnight show after a day of work in a packed theatre and that experience made it way better. The crowd was totally into it (Just like what you see in the preview). The movie has moments of total quiet where the entire audience goes quiet too so they can listen for the bumps and creaks, then everyone shrieks and screams the moment anything happens because by then you're so freaked out.
The actors and the camera work are so natural it really seems like your just watching a couple's home movie. It's like the scariest YouTube video ever made. By the way, if you worry that the film will be to "shaky" because it's shot on home video (Like Blair Witch, Cloverfield, Open Water, etc.) don't be. There are moments of shaky cam, but the guy often mounts the camera on a tripod or on the counter or a table or something so the shot is steady. You won't get sick watching this movie.
The couple kind of remind me of Jim & Pam from The Office, (but that might be because I watched The Office before I left to see the movie.)
This movie is only playing in limited release right now. I ran out to see it tonight because I wanted to catch it before it was gone. I recommend you do the same. Go see this in the theater, late at night, with a crowd, as soon as possible. Then see how well you sleep that night. I'm writing this review right now at 2am because I'm putting off going to sleep as long as I can.
Zombieland was OK. It was not as good as I was expecting. The previews and reviews had me peeing my pants with excitement for the last 2 weeks but for me, it did not live up to the hype. I LOVE zombie movies and don't get me wrong, this is one of the good ones, but it was not what I was hoping for.
Here's the good stuff - This film is not "low budget", they spent some money on it. The zombies look great and they are "sprinters", which I favor, even though zombie purists prefer the lumbering kind. The actor's were great. Woody Harrelson was awesome and really funny and the kid who acted like Michael Cera was funny too. I liked the girls as well. The well publicized cameo was fun too, but probably could have been funnier considering who it is.
Now, the stuff I didn't like - "The rules" idea was neat-o but there were only about 5 of them and that kinda petered out after the first 30 minutes of the film. I wanted to see more rules (in the vein of The Zombie Survival Guide). The movie started off strong, lots of zombie attacks, but the last hour of the film (except for the finale) was pretty slow. Too much down time between zombies. And finally, my biggest complaint and the reason the movie didn't live up to my expectations is the scope/scale wasn't big enough. In a film called "Zombieland" I expect to see an entire "world" of zombies. I mean millions and billions of them, literally. I want to see mass global destruction as well from the giant battle that took place at the start of the outbreak. A zombie apocalypse! If you read World War Z, you know what I want. I want to see stuff like "The Battle of Yonkers", the "Port sequence on the coast of India", etc. The final battle sequence in The Lord of the Rings: Return of the King proved that anything is possible with CGI, heck even the scene in the parking lot with the exploding truck in the 2004 Dawn of the Dead remake had 1000's of zombies in it. Dammit! I want to see multitudes of zombies! Give me my zombies! At the end of Zombieland when the zombies attack the amusement park in Los Angeles, there were probably about 100-150 zombies, tops. In 2008, the population of Los Angeles was 9,862,049! (I don't want people to confuse this last complaint with me saying that "the film is not realistic enough." I HATE that complaint. It's stupid. I know this is a freakin' zombie flick so I don't need realism, I just wanted a lot Lot LOT more zombies.)
They keep comparing this film to Shaun of the Dead. I understand why, because it's a zomcom, but Shaun was a million times better. Shaun of the Dead was, at ALL times, super funny and filled with zombie action. Plus major cast members were picked off along the way which makes for a more exciting story. The crew from Zombieland is, unfortunately, more fortunate.
I LOVE Michael Moore movies. As an armchair Socialist, I agree 100% with everything Michael Moore says and does. In fact in most cases I don't think he goes far enough. In my perfect world, I would be more than happy to give the government 90% or more of my income if everything I and everybody needed to survive comfortably was provided.
That said, Capitalism: A Love Story is probably one of Michael's weaker movies. The problem is Capitalism, while evil, is too broad in scope to attack in a single film. In Roger & Me the enemy was GM. In Bowling for Columbine it was Gun Control. In Sicko it was health care. These are pretty much single issue topics that I can get behind and against. GM was bad and wrong for putting profits and outsourcing ahead of the people who work for the company. America has way way way too many guns and crimes and death that results from them. And we as Americans have one of the most expensive and worst health care systems in the industrialized world. I get it. I agree. And while I also agree that Capitalism is a vile system that builds up and creates wealth for 1% of the population at the expense of the remaining 99%, and should have been abolished at the end of the last millennium, I don't think Michael did a good job of explaining why or how to do it in this film.
I don't want Soviet era communism or German Socialism like they had at the turn of the last century. Conservatives and anyone else who try to make that connection are idiots and fools. I want America, the leader of the world, to take the best parts of Socialism, and make it our own. It is an ideal system in it's purest form. Capitalism: A Love Story showed us what was wrong, I hope Michael's next film will show us the way.
Surrogates was not as good as I wanted it to be. Bruce Willis + Sci-Fi usually means movie gold, but not this time. I think the problem was that the story was kind of slow and the "smoothing effect" that they used on the surrogate robots was distractingly fake looking. Every time I see this used in a movie it fails to do what the film makers envision. Another disappointment was that the plot had a huge scope, but we only got to see a small scale slice of it. I get disappointed when a film has a global phenomena (everybody in the world is living their life through a surrogate robot) but we only get to see one or two perspectives in a few blocks of a single city.
Megan Fox's, I mean Jennifer's Body, wasn't that good. It's like a weak horror version of Heathers. It's basically a mediocre horror comedy with a girl so distractingly hot that you forget that you just wasted 10 bucks and 90 minutes.
Cloudy with a Chance of Meatballs
+
Just wanted to say, no kidding, Cloudy with a Chance of Meatballs was the funniest movie I've seen all year. I might have liked it more than Sasha, and the 3D was the best I've ever seen.
Gamer got terrible reviews but I loved it. A warning- it is a frenzied, jump-cut edited, mishmash that very closely resembles the actual world of a first person shooter video game. If you play these or watch others play, then you will be used to the style, if you don't, the action scenes may cause nausea. The story too is weak and slapped together like an after-thought, also resembling the story lines of a first person shooter video game. But if you can and want to follow it, it's a fun new take on a movie we've all seen 100 times before. Prisoner is offered freedom if he fights to the death for the amusement of the public. The guy from 300 is the star, but my favorite character was the bad guy played by the guy who plays Dexter on Showtime. You don't need to see this at the theater, it might be more fun at home on the small screen while kicking back in your gaming chair.
The new film from the Office Space director will probably become a cult hit on DVD just like Office Space did. It's not as funny as Office Space, and Ben Affleck...
1. Should not have been cast as the friend and
2. Should not have been allowed to go with the Geico Caveman hair and beard look, it was way too distracting.
Other than Ben, it's a pretty good movie with some funny lines that will probably get better with age and repeated viewings.
Rob Zombie is a great horror director. I loved his first Halloween reboot, and if I hadn't missed the first 10 minutes of this sequel, I might have enjoyed it more. It was also my 3rd film of the day so I was a little worn out. It is fun and scary and has all the cool editing and dirty grungy scenery / people that we've come to expect from Zombie and his family of horror weirdos. I especially liked the supernatural element of having Michael's mother and younger self guide the actions of the older, gigantic monster. I'll probably enjoy this better at home the second time, maybe after a seeing the first one again to refresh my memory.
So obviously I liked the new Quentin Tarantino movie. He's never made one that I didn't love and this film is as "Tarantino'd" as all the others. Long stretches of stylized super-cool dialogue punctuated by bursts of extreme ultraviolence. I felt the time between action sequences was a little bit longer than I had anticipated but maybe that was because I watched Kill Bill again earlier in the week and that movie has a greater amount of action than typical QT films. I kinda went into this expecting 2.5 hours of Nazi's getting killed and brutalized in lusciously horrific ways (such is what you see in the movie trailer) but that actually represents a tiny fraction of the film. This is not an "Action" movie. The story and characters (as in all QT films) are the show. Probably because I'm still amped up on the mindless energy of summer popcorn flicks, I went into the theater with the wrong mindset. But after the first opening sequence (that lasts about a half hour and consists of a single conversation) I remembered what a Quentin Tarantino movie is all about and was able to enjoy and soak in the film noir/war movie/spy genre re-imagining that is Inglourious Basterds.
I had pretty high expectations for District 9. The teasers looked really cool but I had no real idea what the story was. 10 minutes into the movie all my expectations had been blown away. I LOVED every second of this movie. And it just gets better and better and better as it goes along.
It's filled with action, has a really cool, new and unique storyline. It's filmed in a part of the world (South Africa) that we almost never get to see in movies and uses all unknown actors so you can be worried for everybody.
The special effects are top notch (From the Lord of the Rings Weta team). There's an alien weapon that basically explodes anyone who gets shot with it in a giant wet burst like a bloody water balloon. It's also cool to see the way the whole film is all edited together using TV news reports and video surveillance footage.
Not giving too much away, it's also super-cool to see a flip on the alien invasion scenario. The humans are terrible and cruel and the aliens are the ones you sympathize with and root for. They were not really invading, they just kinda broke down over our planet.
Looking back over my favorite films of the year so far, District 9 has shot up the list to the number 3 spot right behind Watchmen and Star Trek.
This film is kind of a combination of Black Hawk Down and the sniper scene from Full Metal Jacket. Before going to see the movie I knew that it had a super high critics scores and having read a lot of reviews from normal people, found that military folk who actually served in Iraq and Afghanistan think it's a stupid Hollywood-ized joke. Since my least favorite critique of films is that "it was unrealistic", I'll have to side with the critics on this one. It was a exciting, edge of your seat, interesting look at one of the craziest most deadly jobs on the planet. I loved the film and recommend people rent it when it comes out on DVD. Maybe that's not how it "really" happens in Iraq, but it was fun to watch.
Harry Potter and the Half Blood Prince
Here's the thing about the Potter films - I like them but since I never read the books, it's kind of like watching the first 7 episodes of a TV show, like lets say Lost or 24, spread out over 10 years. I usually barely know what's going on or who the characters all are. This movie was easier to follow than the last one though. I love Alan Rickman as Snape. My favorite kid at the school is Luna, she's a cool weird fun character. That's really all I have to say, I'm also kinda disappointed that the last chapter is going to be split into 2 films. That's just gonna make it even harder to follow. I'm guessing when it's all over I will be able to sit down and watch all 8 films back to back for 20 hours or so and it will all make a lot more sense to me. I hope anyway.
This movie wasn't gay enough for me. Just kidding. It was the perfect amount of gay. But it wasn't as funny as Borat. I would have liked it if Bruno did more of the "ambush the homophobes" type stuff. Like walking past an anti gay protest while strapped to another guy in bondage gear. That was awesome! Those were the best parts of the film.
Transformers: Revenge of The Fallen
+
I LOVED this movie. Granted, I liked the first one too. If you liked the first film, then this is basically the same movie turned up to 11. The last hour and 10 minutes of the show is basically just a non-stop giant robot battle. Awesome! If you were expecting anything more (like a really deep interesting story, or dramatic character development) then you're an idiot. Just sit down, grab a giant tub of popcorn and watch Megan Fox being crazy-sexy and a bunch of robots sluggin' it out for 2.5 hours. Now that's summer entertainment
I was disappointed with this movie. I can't even recommend that you should watch it on DVD. The talent involved (Harold Ramis directed, Jack Black, Michael Cera and David Cross) should have been able to come up with something better. I was expecting something on par with Mel Brook's History of the World Part 1, what I got was the most expensive Saturday Night Live skit in history.
Drag Me To Hell is a Sam Raimi movie (the guy who made the Evil Dead movies and the Spiderman movies.) This film is basically Evil Dead 4. I LOVED it! It's super scary, super funny and super exciting and entertaining from start to finish. This is not psychological thriller, it's a stuff jumps out and scares you out of your seat kind of movie. I definitely recommend going to see it at the theater soon, while there's still a crowd. It's fun to jump and scream with everybody else. If you don't catch it at the theater, this will be a good DVD to watch at home too, especially some night when you're all alone.
Honestly, did you even think for a second that I wouldn't Love this movie? I was so excited I actually dragged myself off my Flu Bed over the weekend and probably infected 500+ people just to see it. The story was cool and it was super fun to finally see a Terminator film set in the post apocalyptic Skynet future we've only seen glimpses of in the previous films and TV show. Christian Bale was awesome as John Conner. I hope he stays in the role. I was kinda disappointed that they didn't tie in the TV show at all. Since it may have been cancelled I suppose that makes sense, but it would have been neat to have one of the characters from the TV show walk by or something. My only other regret is that it was only PG-13. This could have been much more violent and R rated like the other films and that would have been just fine with me.
OK. I just got back from the midnight sneak preview of Star Trek. It was so awesome I thought I might literally explode from excitement! I had huge expectations and it surpassed even my wildest dreams. If the theater had been less packed, I would have been standing in my chair jumping up and down through the whole movie.
I consider myself a Trekker or Trekkie. I've seen all the shows, all the movies and read a bunch of the books. I'm not fanatic though. In other words, and I've said this before, I like "reboots". Especially the reboots of late. For example the last Batman movie wasn't just the best Batman movie ever, it was one of the best movies ever. So when it came time for Trek to get a do-over. I was excited by the prospect. When they cast Sylar as Spock, I was ecstatic. When I heard there were going to be some "changes" I was not alarmed and I welcomed them. I trust J.J. Abrams completely. He has never done anything I didn't LOVE. And the new Trek is just his newest triumph.
The action is off the charts exciting. The story which was tasked with re-introducing all the characters of the show, had enough of a plot to propel it past the confines of the standard 1st episode origin story. All the casting was perfect. As a fan of Heroes, it took about 30-45 minutes to get used to Sylar as Spock (I kept worrying that if he got too angry he might saw Kirk's head open.) But other than that, everyone did a great job with their roles. Chris Pine was awesome as Kirk. He had just enough of the swagger, but without making it too cartoony. Karl Urban was great as Dr. McCoy. His was probably the closest thing to imitation but it was very enjoyable. Shaun of the Dead is hilarious as Scotty, but doesn't show up until very late in the film (I almost forgot he was going to even be in the movie). And finally Eric Bana is great as the villain.
The effects and sound are off the charts cool. The scale of the bad guys ship is breathtaking. I saw it on an IMAX screen and I highly recommend you see it that way too. Everything's better in IMAX.
Anyway, I don't know what else I can say. I can't believe I'll probably have to wait at least 3 more years for the next film. But I can always go see this one again. And probably, sometime in the next few days, I will.
Funny note: Sasha calls this movie "X-Men Oranges." "Daddy, are you excited to go see X-Men Oranges?"
I knew I would like this movie before I even got the theater. I've been waiting all week to see it and it was exactly (though maybe a little less than) what I expected. We get Wolverine's origin story, but it feels like an abridged version. During the opening credits we see Wolverine and Sabertooth fighting in the Civil War, World Wars I and II and Vietnam. This was cool to see and I would have liked to have seen more of it. Like the first 1/2 of the movie could have been "The War Years." That would have been cool. Then we see him working for Stryker's Special branch, this too should have been longer. I wanted to see more scenes of the team in action, like in the African Diamond sequence. Anyway, it was fun for what it was and it was pretty much what I expected. So I was happy with it.
This movie falls into the Pineapple Express genre of comedy. It's not like a laugh a minute type film. It's got some funny moments, some serious moments and some over the top violence and male nudity. I'm not sure if I'm really a fan of this type of comedy yet. I keep going to see them and I like watching them, but they seem like the kind of films you only want and need to see once.
I'm not sure why reviews for this movie are so poor. It could be that Nic Cage has been making too many mediocre movies lately and the reviewers are punishing him? It could be that on the surface this film looks like a stupid numerology movie along the lines of The Number 23? Whatever the reason, everybody (except Roger Ebert) is wrong about this one. Knowing is a super cool film with some outstanding special effects and a decent twist at the end that hopefully you won't find out about in a spoiler before you see it. I love Alex Proyas movies (Dark City, I Robot, etc) so I am biased and if you love Alex Proyas, then the twist in this movie won't be too much of a surprise. That's the only hint I'll give. Anyway, I really liked this movie and I was happy I saw it in the theater. The big special effect scenes will be diminished no matter how big your TV is.
The remake of Last House on the Left is pretty much a waste of time. I was really disappointed with it. I'm a fan of the original. That movie was a little slow but much more raw. This remake is too clean and (I know this is horrible to say but) not violent enough. It's not that I have a problem with the new horror remakes. I liked the remakes of Texas Chainsaw Massacre, Halloween, The Hills Have Eyes, etc. but this one didn't really improve on the concept. The good thing about the remakes is they tend to be better paced and have more aggressive editing. Unfortunately the new Last House on the Left doesn't.
Watchmen
+
It's 3:28am. I just got back from the midnight sneak preview of Watchmen. I'm so excited I can't sleep. It will probably take much of the day tomorrow to process everything I just saw. This is a superhero movie unlike anything you've ever seen before. For many that will be a bad thing. The ratings I've seen so far are wildly mixed. Scores of 100 at the top and I'm sure there will be some zeros by mid afternoon tomorrow. Obviously I'm in the 100 category (as if I would be anywhere else.) I went into this film expecting to come out a different person. It happens every so often for me. So now I'm living in the post-Watchmen era of my life. Although I'm a huge fan of comic and graphic novel inspired movies, and a fair weather fan of comics and graphic novels themselves, I've never taken the time to read Watchmen. So I went into this movie almost completely in the dark as far as story, characters, history, themes, etc. I was going to get a copy and read it before the movie, but now having seen the movie and reading some articles that say the film IS the Graphic Novel, I guess it would be redundant to read it now. And that's fine with me. I'll write a little more tomorrow. I have to get to bed now.
OK, Its the next day now. I got 4 hours of sleep last night and I'm semiconscious. I'm going to break my short review rule and write a full blown movie review here. I feel I need to defend Watchmen against the slew of bad reviews I've been reading today. I'm kinda loopy from lack of sleep, but let the madness begin!
Often when I give a great score to a poorly reviewed movie I like to say "They didn't understand it." "Peter Travers must have been off his meds today." "Most people are idiots" "America is too dumb to get it" "Reviewers are all stupid and too critical and I hate them." I still believe all of those things apply for Watchmen, but I can understand, in this instance, why people don't like this film and I will start my review with warnings where I tell you 10 reasons why you shouldn't see this film.
Including previews this film is 3 hours long. For me that's a sign of a good film that is being allowed to show you everthing they wanted you to see. So if you can't sit still or focus for 3 hours in a row, don't go see Watchmen.


Multiple story lines, flashbacks, timeline fragmentation over about 100 years. Remember in Pulp Fiction when John Travolta got killed in the bathroom and then at the end of the film he was eating with Sam Jackson in that restaurant. If that blew your little mind then you're too stupid to see this film. If you can't follow a story line that unfolds in a non-linear direction don't go see Watchmen.


Ultraviolence. This is not Spiderman. The "bad guys" are not captured and left in a web for the authorities. Most are dispatched in the most violent way available at the moment. Not a fan of seeing people literally beat to a pulp, blown up, have their head and limbs ripped, cut and bashed off? This movie is filled with that. Don't go see Watchmen.


Full frontal male nudity. Squeamish about that? There's lots of it. Don't go see Watchmen.


If you want to take your kids to see the new "comic book" movie. For God's sake, don't go see Watchmen.


Practically every character in Watchmen is bad. There are no "good guys". There's just bad guys, really bad guys and really really bad guys. Need a movie with easily distinguishable Heroes and Villains? Don't go see Watchmen.


With one exception, all the characters start the movie with their powers and for some you never really understand what the power is or how they got it. Need Origin Stories or explanations of how and why a superhero has a special gift or power? You're not going to get that here. Don't go see Watchmen.


Are you a literary or source material snob? "It's not as good as the book" "They left out Tales of the Black Freighter" Blah blah boo freakin' hoo. This is the FILM Watchmen. If you don't want to see the film version, Don't go see Watchmen. (Incidentally, along with 300 and Sin City, this might be the most faithful adaptation of source material in history.)


"There's too much hype!" "Nothing popular is cool." "If the corporate suits want me to see it, then I ain't going." "The soundtrack wasn't released on SubPop" "No one will ever understand me!" If you've said any of these last few quotes for any reason - Don't go see Watchmen.


Mom & Dad Wiseman. You will hate this movie and when you tell me you hate it it will just make me mad. Don't go see Watchmen.
Now that we got that out of the way, let me just say - WOW! I LOVED this movie. I cannot wait to see it again and again and again. This is an epic supehero movie. The characters are all super-cool. The special effects are incredible. The action and violence comes in fast harsh bursts and is connected by interesting storylines that keep the film on course and ever driving forward.
Rorschach played by Jackie Earl Haley is awesome. Every scene he's in is riveting. Best line in the movie, when Rorschach is in prison and he attacks a guy who threatens him, he shouts to everyone "I am not locked in here with you! You are locked in here with ME!" The Comedian is also a very bad superhero. Often employed by the US government to do it's dirty work, his story is told in flashbacks. He's bad. Really bad. But he's the fun one. Ozymandias is super rich, smart, fast and strong and has built his fortune by unmasking himself and doing things like selling action figures of himself. Silk Spectre II is just a super sexy second generation ass kicking chick. That's all that needs to be said about her. Nite Owl II is kinda like Batman (Plus as a bonus, out of costume, he looks and acts like a young Chevy Chase as Clark Griswold) but he seems to have enhanced strength. Actually all the supers seem to have enhanced strength and speed but this is never explained. We do see examples in the past though where supers are gunned down, so most of them are not immortal. And that brings us to Dr. Manhattan. The only super who gets an origin story and the only one with truly super powers. He is, for all intents and purposes, a god.
In a nutshell, the whole story is that the Comedian gets murdered and Rorschach investigates his murder. There, I explained the whole film in one sentence.
Zack Snyder is the director. He made 300 and the Dawn of the Dead remake and can, in my book, do no wrong. Plus if you listen to his commentary tracks, he's like an excited kid about making movies so I know his heart is in his work. I can and do vicariously take joy in his success and exuberance.
Go see Watchmen. I can't guarantee you'll like it, but I can guarantee that you've never seen anything like it before.
I made a huge mistake with this one. It was a choice between The International and the new Friday the 13th movie. I checked the reviews and even though the critics seemed to think Friday the 13th was fun, they only gave it a collective score of 35. The reviews for The International were not much better but I've seen the ads and previews, I love Clive Owen so I figured it was a safe bet. Boy, was I wrong. This is the most boring "thriller" I've ever seen. It was like a James Bond movie with no action at all that you arrived for 20 minutes late and then left 20 minutes before it's was over. It had one super cool shoot out scene at the Guggenheim museum in New York, but that's literally the only fun or interesting thing in this whole movie. Don't even rent it, you'll regret the lost time.
This is without a doubt the best 3D movie ever made. It's a creepy and kinda scary story that's NOT really for little kids. If you have an hour, I recommend the book as well but it's not necessary to enjoy the movie. They did an outstanding job here. There was a grown man next to me in the theater who jumped and screamed twice! There were also a bunch of 3D previews for other animated movies before this one and if this is the future of film, then bring it on! P.S.- stay through the end credits for an extra cool little 3D effect.
Oh My God. I LOVED this movie so much. When I saw the commercials I knew I had to see it. I had really high expectations and they were met and exceeded. This is not a great movie. It's just a really super fun action movie. (Plus it helps if you have a daughter. It makes it more exciting.) The whole movie is just Liam Neeson killing about 60 or 70 guys on the way to finding his daughter who has been kidnapped. It was awesome!
I've seen documentaries about Harvey Milk before so his story was not unknown to me. Sean Penn does a great job as Harvey and James Franco is super as Harvey's boyfriend Scott Smith. This is a great story but really sad. I got kinda weepy at the end.
This movie was a little slower than I expected. It was fun to see the Jews fight back and kill a ton of Nazis. Plus it was apparently based on a true story so that's kinda neat.
---
2008 Movies
We saw this on the MLK holiday. Even though it's 2009 now, this is technically a 2008 movie, and since it will win the Best Picture of 2009, I will add it to my 2008 list. I wanted to see The Curious Case of Benjamin Button more, but I am confident that this movie is going to win Best Picture so I thought I better see it first. Plus Holly really wanted to see this one. Here's Holly's review: "Slumdog Millionaire is the best movie I've seen in years and one of the best movies ever made." I disagree. The nominated films this year all seem mediocre and/or boring to me (I'm literally furious that The Dark Knight, my choice for Best Picture of the year, was not nominated.) Nonetheless, Slumdog is a good movie and worth seeing. I liked it. It's Forrest Gump meets City of God. How's that for a crazy mash up?
This was the only movie I saw over the holidays. With all the highly reviewed, Oscar nominated end of year prestige movies playing, Jeff and I decided to see the one the critics all hated the most. Written and directed for the screen by Frank Miller (Sin City) and using nearly the same special effects as Sin City made this a film I had to see (Because I love Sin City.) I was not disappointed, since I had such low expectations going into it based on the horrid reviews. I liked it. It was fun. It had cool villains (Sam Jackson & Scarlett Johansson) and Eva Mendes wearing nothing and next to nothing, what's not to like?
I saw this movie before I left for Christmas and LOVED it. I watched the original the week before this new one came out and it was fun to see what they kept and what they changed. I was surprised there was so much backlash about this film. Keanu is great as Klatu and the special effects are super cool. Plus this was the first movie I saw on the new IMAX screen at my theater so that was a big bonus too!
I'll be brief with this review because I don't want to upset my teenage niece who LOVES the book series that this movie is based on. Twilight is nothing like what is advertised in the trailers or TV ads. There is very little action, almost no vampire "stuff" going on and it's basically just an overly adorable love story. Think Lost Boys meets 90210. I probably should be embarrassed to say that I've been a fan of the Anne Rice (Interview with an Vampire) vampire books and movies but they seem, by comparison, to be high art. Holly said it best when we left the theater after Twilight: "It was like chapter one of the 'My First Little Vampire' series."
I LOVE the new Bond movies. Daniel Craig's Bond is so hardcore tough. I always loved Pierce Brosnan (I waited my whole life for him to become Bond, but Craig is a 1000 times better.) A lot of the reviews for this movie have been complaining that he's too somber and angry. I agree, but I love it. This is the first Bond sequel, in that it starts right where the last one left off, and Bond is pissed off and just kicking ass and killing his way through the whole movie. It was so awesome. Can't wait for the next one.
I was disappointed by this movie. I really like Paul Rudd and I thought the idea of a movie that makes fun of the Big Brothers program was a great idea but it was poorly executed. The movie seemed too improvised and they let some of the players like Jane Lynch ramble on way past the point of the joke not being funny anymore. And the little kid who swears all the time, that's funny for about 5 minutes and then it's just annoying.
I had low expectations for this movie. The reviews were poor and Kevin Smith films can go either way. But I loved this movie! I was laughing out loud and like crazy through the whole movie. It's VERY over the top with crude language and situations so if you're offended by anything, don't go. I especially loved the cast. Seth Rogan was awesome and perfect. I love Elizabeth Banks (have ever since she was on Scrubs) and Darryl from The Office is really funny too. Oh, and Justin Long (from the Mac & PC ads) has a hilarious cameo with Brandon Routh (the new Superman).
Here's the thing about W, if you're expecting Oliver Stone to tear apart President Bush and expose him for the fool he is, you're only going to get half of what you wanted. Bush is unbelievably stupid. Horrifyingly so. But you also see that he is very much a pawn of those around him. This is not to say that he is excused from his crimes against humanity, but we can at least better understand how and why he brought this once great country to the brink of disaster and ruin. We'll leave it to Michael Moore to one day do the film that shows us the horrible and unfortunate aftermath of the Bush presidency.
Max Payne is a fun video game based, comic looking, Constantine feeling, Sin City type rip off. This is not to say that it wasn't fun to watch, it just wasn't new in any way. We've seen all this done before and done better.
Quarantine was a huge surprise for me. I had read some reviews, or at least review blurbs, the weekend it came out and people seemed to not like it. But now I've seen it and I can say it's a super fun scary good time that will probably make it to my Top 10 list of 2008. It's got the shaky single camera caught on tape thing like Cloverfield. And the zombies (they're not really zombies, but lets just call them that since everything they do is zombi-ish) are very much like the awesome relentless sprinting crazy variety like the Dawn of the Dead remake and 28 Days Later. I loved this movie and it scared me many times while I was watching it. The scariest thing about it is it's plausibility. Forget the reviews, this one is a must see in the theater. Don't wait until the DVD comes out. It needs to be seen on the big screen.
Tropic Thunder was super funny. There's some fake previews before the movie that are even funnier than the movie that follows but it's still a good film. Robert Downey Jr. is awesome. I can also see why the retarded people got upset and protested the film but it was still hilarious. It's also kinda violent and super rated R, so that's cool too.
Pineapple Express is like a Cheech and Chong movie directed by Quentin Tarantino. It's got cool hip dialogue and then some over the top scenes of violence. It was really funny though. I saw it at the same time as Tropic Thunder and because I saw this one first I might have liked it a little more. I'm also a little partial to the Judd Aptow movies that have saturated the theaters for the last couple years. Seth Rogen was pretty much himself, but James Franco was awesome and almost unrecognizable.
The X-Files 2: I Want to Believe
Of all the people you know, nobody loved The X-Files more than me, and that's why it literally hurts me to report that I did not like this film. So why did I give it 4 stars? Honestly I couldn't bring myself to score it lower, but I can tell you I was actually bored while I was watching this movie. I was worried when I saw the previews for the film. There was nothing in the previews that looked interesting or fun. I hoped this was because they were hiding all the cool stuff and just showing enough in the preview to remind people about how much they loved X-Files. Unfortunately they did kind of show the best parts of the film in the trailers, the rest is even less interesting. I'm so disappointed I could cry. I have to stop now. I can't believe I had to write a review like this for one of my all time favorite TV shows.
It took me a few viewings to like the first Hellboy. This time I knew what to expect going in and the crazy good reviews elevated my expectations. I was not disappointed. If you liked the effects and characters of Pan's Labyrinth then I guarantee you will like this film. It's a really fun movie.
The Dark Knight. They got that right. This is the darkest, most noir, superhero film ever made. Frank Miller's (Sin City) influences are all over this one. I knew I was going to love this movie and for once, the critics are all on board as well. The scores over on Metacritic are off the charts. I can't believe how many 100's this film has received. It deserves them for sure and this is in large part thanks to Heath Ledger. Everything you've heard about his performance is true. Remember Hannibal Lechter in The Silence of the Lambs? It's that kind of "once every decade" performance. He's so awesome here words can't even describe it. Everyone in the movie is in top form. This is one of the best movies of 2008, make no mistake, you must see this film.
Here's the thing about Hancock - It's new. It's kind of a new superhero story too. Sure there's been comics that have done the down and out, dirty and corrupted superhero, but we haven't really seen it yet in film (I'll pretend I didn't see My Super Ex Girlfriend.) So that's the fun here. It's something new and since it's not based on a comic, we don't know what to expect. After seeing the previews, I thought I knew what to expect and now that I've seen it I was even more happy with the film than I anticipated. It's funny and fun, just like a good Superhero movie should be. The reviewers are being unusually harsh on this film, but don't believe them. If you like Will Smith (like I do) and Superhero movies then you will like Hancock. It's as easy as that.
This movie was as awesome as I expected it to be. Angelina was screaming hot. And the kid from Last King of Scotland did a good job in the Neo role. Speaking of Neo, we can all agree that the lobby gunfight in The Matrix is one of the coolest action sequences ever filmed right? Now we can add to that list the Textile Mill gunfight sequence in Wanted. Yes... It's that good. My only problem with this movie, if you could call it a problem, is that the training portion of the film is a little too long. It would have been cooler to see him go on more assassination missions. As it is, with the long training section, it's kind of like the "Rocky" of Assassin movies.
I was disappointed with this movie. It's either a bad action movie with a few good jokes or a mediocre comedy with action sequences. The actors all did fine I guess, Steve Carell did a decent Maxwell Smart impression (I was a fan of the TV show as a kid, so I might be kind of overly critical.) Maybe on a different day I would have liked it more?
Critics hated this movie. I'm not sure why. It's basically just an Austin Powers movie. I loved all 3 of the Austin Powers movies and I laughed out loud all the way through this movie. Justin Timberlake and Ben Kingsley were hilarious too. And Jessica Alba is in it! It's a really funny movie. So if you liked the Austin Powers movies then you will like the Love Guru. It's as simple as that. The reviewers are wrong about this one.
First I'll say that I'm a fan of ALL comic book movies and that I liked the first Hulk movie 5 years ago too. This one is better though. It's not a "Reboot." It starts right where the last one left off. The opening credits cover the whole "How he became the Hulk process." I love Edward Norton and he is great as Banner. This movie also has a lot more winks and nods to the TV show so that's fun. It also has a little more humor. And best of all, now that Marvel is producing the movies themselves the cross-over future is looking bright! Keep an eye open for Robert Downey Jr. as Tony Stark and references to SHIELD.
If you saw the trailer for The Happening, then you saw a 3 minute version of this movie that was much better than the whole film. This is not to say it wasn't worth watching but I actually saw the trailer again about 15 minutes after the film ended (when I snuck in to see The Strangers) and I thought, Wow! I wish the movie I just watched was that good! The best thing about it is it's one step closer to a hypothetical film that Holly and I have been waiting our whole lives for. You know that first 15 minutes at the beginning of the remake of Dawn of the Dead. We want to see a whole movie that just shows the quick collapse of society. Everybody going crazy and all systems failing. Chaos. Anarchy. Weeeeeeeeeee!
This was a scary fun film. It reminded me of a European horror film like Funny Games (The Austrian Version) or The Vanishing (The Dutch Version). It's not fast paced and the body count isn't high but it's a good scare and it's plausibility is the real terror. Whenever I see a house out in the country set back in the woods I always assume that the people who live there are on borrowed time.
Here's another comedy from the guys who made Knocked Up, Superbad, Walk Hard and The 40 Year Old Virgin. This was a nice funny romantic comedy. Along the same lines as Knocked Up. Ugly, weird, nerdy guy loses and then gets another super hot girl that would only be possible in a Aptow movie. It had some really funny jokes but nothing compared to the rapid fire hilarity of Walk Hard. It's a good date movie though. So if you can't get the wife or girlfriend to go see Iron Man (And you should really try for that first) then you could do worse than seeing Forgetting Sarah Marshall. Remember Made of Honor is still in theaters too and you don't want to end up there!
Indiana Jones and the Kingdom of the Crystal Skull
I'm a huge fan of the Indy movies. I've seen them all many many many times. This new one was good. I liked everything about it. More CGI than ever before but that's cool with me. I don't mind. It was fun like the other three films before it. I would say it falls into the Temple of Doom category. If I was to rank them I would probably say the order is now 1-3-4-2. Don't be discouraged by this though. Go see it. It's a fun summer movie and honestly if you're a fan of the series it's not like you have a choice.
I was never a fan of the Speed Racer cartoon. But I am a huge fan of the Matrix series and this is the first film those guys have done since then so despite bad reviews I decided to give the film a shot. Here's all I have to say - If you want to save 7 bucks just do this: Take some blue, red, green and yellow food coloring, put a few drops of each into the toilet, stick your head into the toilet, open your eyes and flush. Do this for 2 hours and 15 minutes and you can then say that you've seen Speed Racer.
Iron Man is the first blockbuster of Summer 2008. I haven't decided yet if it is "The Best" or just "One of the Best" Superhero films EVER MADE. It was so awesome!!! DO NOT MISS this film at the theater. Even if you don't know who Iron Man is. But if you do it's even better (also if your a fan of the comic then definitely stay through the end credits for a awesome bonus scene.
Young @ Heart

My neighbor gave us free tickets to a sneak preview of this movie. It's not the kind of film I would normally go see but Holly said the movie review guy she listens to on the radio liked it and I read a few good things about it in Entertainment Weekly. It was OK. Kind of cute, kind of sad. The film is about a group of very old people who perform somewhat contemporary rock songs. If you're a fan of 80s and 90's rock like The Talking Heads or even a sort of contemporary band like Coldplay, and you want to hear what it sounds like being sung by a group of 80 years olds - Then this is the movie for you!
Just when I started liking Will Ferrell movies (Talladega Nights, Blades of Glory) he makes another sports spoof and this one only has a few laughs in it. Time to move on Will.
As a former amateur filmmaker I liked this film because it reminded me of the "Titanic" video that Holly and I shot 10 years ago. If the whole film was just about 2 guys shooting super low budget remakes of famous movies, and we got to see the movies, then I probably would have liked it better. But, the film has a message and a heart and a sweet sentimentality that I found kind of boring.
This film had cool special effects but seemed more like the pilot episode of a TV show than a feature movie. The story really got going about 2 minutes before the film ended. Will there be another episode next week?
I don't want to sound like a idiot so I'm not going to say Atonement was a bad film but I will say this: Having not read the book, I found the shifting time periods and Rashomon-like perspectives confusing. Holly read the book so she was there to whisper in my ear what was going on when I got that confused look on my face. It's not that I can't deal with these elements in a film, Quentin Tarantino can chop a movie into pieces, throw it in the air and glue it back together and I can follow along fine. I think in this case the problem lies in the parts of the story that were not filmed, and the parts that were, did not form a cohesive whole. Plus it was a chick-flick and I thought it was kind of boring. There, I said it.
AWESOME! BRILLIANT! THE BEST FILM OF 2008 SO FAR! OUT-FREAKING-STANDING!!!!!!!!!!!!!!!
---
2007 Movies
28 Weeks Later (2007)
30 Days of Night (2007)
1408 (2007)
American Gangster (2007)
Beowulf (2007)
Beowulf 3D (2007)
Blades of Glory (2007)
The Bourne Ultimatum (2007)
The Brave One (2007)
The Darjeeling Limited (2007)+
Death Sentence (2007)
Fantastic Four: Rise of the Silver Surfer (2007)
Fracture (2007)
Grindhouse (2007)+
Halloween (2007)
Hannibal Rising (2007)
Harry Potter and the Order of the Phoenix (2007)
Hostel 2 (2007)
Hot Fuzz (2007)+
I Am Legend (2007)
The Invasion (2007)
Juno (2007)
The Kingdom (2007)
Knocked Up (2007)
Live Free or Die Hard (2007)+
The Mist (2007)
Mr. Brooks (2007)+
National Treasure 2:Book of Secrets (2007)
No Country for Old Men (2007)
Pirates of the Caribbean: At World's End (2007)
Reno 911! Miami (2007)
Resident Evil: Extinction (2007)
Shoot Em Up (2007)+
Sicko (2007)+
Simpsons Movie (2007)+
Smokin' Aces (2007)
Spiderman 3 (2007)+
Sweeny Todd (2007)
Transformers (2007)+
Walk Hard (2007)
Zodiac (2007) (2007)
---
2006 Movies
16 Blocks (2006)
300 (2006)+
Apocalypto (2006)+
Borat: Cultural Learnings of America for Make Benefit Glorious Nation of Kazakhstan (2006)+
The Break Up (2006)
Bug (2006)
Cars (2006)+
Casino Royale (2006) +
Children of Men (2006) +
Click (2006)
The DaVinci Code (2006)
The Departed (2006)
The Descent (2006)+
Flags of Our Fathers (2006)
Flushed Away (2006)
For Your Consideration (2006)
The Fountain (2006)
The Good Shepherd (2006)
Happy Feet (2006)
Hard Candy (2006)
The Hills Have Eyes (2006)
The Illusionist (2006)
Inside Man (2006)
Last King of Scotland (2006)
Letters from Iwo Jima (2006)
Lucky Number Slevin (2006)
Miami Vice (2006)
Mission: Impossible III (2006)+
Nacho Libre (2006)
Over the Hedge (2006)
Pan's Labyrinth (2006) +
Pirates of the Caribbean: Dead Man's Chest (2006)+
Poseidon (2006)
The Prestige (2006)
The Pursuit of Happyness (2006)
Saw III (2006)
A Scanner Darkly (2006)
Scary Movie 4 (2006)
Slither (2006)
Snakes on a Plane (2006)+
Stranger Than Fiction (2006)
Superman Returns (2006)+
Talladega Nights (2006)
Tenacious D: In the Pick of Destiny (2006)
Texas Chainsaw Massacre: The Beginning (2006)
Ultraviolet (2006)
Underworld: Evolution (2006)
United 93 (2006)
V For Vendetta (2006)
World Trade Center (2006)
X-Men: Last Stand (2006)+
You, Me and Dupree (2006)
---
2005 Movies
The 40 Year Old Virgin (2005)
Aeon Flux (2005)
Batman Begins (2005)+
Boogeyman (2005)
Brokeback Mountain (2005)
Broken Flowers (2005)
The Brothers Grimm (2005)
Capote (2005)
Charlie and the Chocolate Factory (2005)
Corpse Bride (2005)
Domino (2005)
Fantastic Four (2005)
Final Destination 3 (2005)
Good Night, and Good Luck (2005)
Harry Potter and the Goblet of Fire (2005)
A History of Violence (2005)
Hostel (2005)
The Ice Harvest (2005)
The Island (2005)+
King Kong (2005)+
Land of the Dead (2005)+
Lord of War (2005)
Match Point (2005)
Mr. and Mrs. Smith (2005)
Munich (2005)
Red Eye (2005)
The Ringer (2005)
Saw II (2005)
Serenity (2005)+
Syriana (2005)
War of the Worlds (2005)+
The Wedding Crashers (2005)
---
2004 Movies
---
2003 Movies
---
2002 Movies
---
2001 Movies